About GolfBC
Featured Offer
Mother's Day at Gallagher's Canyon
Spoil Mom this Mother's Day!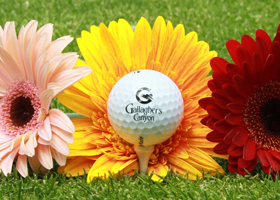 More Details
GolfBC Media and Press Room
Welcome, and Thank You for your interest in the GolfBC Group - owners and operators of twelve golf courses throughout British Columbia and Hawaii and the Crystal Lodge in Whistler Village. To read about what's new at GolfBC, scroll down to "News", a listing of our Press Releases.
News
30-JUL-2010
The summer in Whistler is now well under way, and interest in Cypress Place has been tremendous. Golfers at Nicklaus North get a preview of the stunning setting of the lots that look over the 3rd and 5th holes of the golf course. We are excited to announce that the CypressPlaceLiving.com website has recently been updated with 40 new Virtual Tours – allowing you to visualize the views from every lot as well as the entry gate. Visit the Cypress Place website and click on "Launch Virtual Tour" button for more ...
29-JUN-2010
In the first round of the BC Women's Amateur Championship at Arbutus Ridge Golf Club, Christine Wong from the Quilchena Golf & Country Club shot an incredible round of 68, resulting in a new ladies course record. On June 29th at 9:45am Christine Wong teed off the first hole of the BC Women's Amateur Championship knowing that she stood a good chance of claiming the title. She had already qualified for the US Women's Open Championship which begins next week. Little did she know that by the end of her round ...
31-MAR-2010
The golf course and the GBC Golf Academy are fully operational, open daily from dawn until dusk. For more information on Mayfair Lakes Golf & Country Club visit our website or call 604.276.0585. During the early morning hours of March 18th a suspicious fire started outside the clubhouse at Mayfair Lakes Golf & Country Club. The fire spread into the clubhouse, causing extensive damage to the food & beverage operation, including the Greenside Banquet Room, kitchen and to a lesser extent the Lakeside Grill. ...
10-FEB-2010
The final phase of the Nicklaus North development, Cypress Place, commenced sales on January 31, 2010. The Burrard Group's 39 single family lots were released for sale representing the culmination of the Nicklaus North community master plan in Whistler. The Nicklaus North Community features high quality single family homes, multifamily homes, restaurant & lounge, golf shop and clubhouse centered around Green Lake and the award winning Nicklaus North Golf Course. The Cypress Place site features level, ...
01-OCT-2009
Each year Tourism Vancouver Island has the pleasure of recognizing stakeholders who have demonstrated great efforts and achievements in the tourism industry over the past year. Sponsored by The Van Dop Arts & Cultural Guide to BC and The Van Dop Gallery, the annual Tourism Vancouver Island Gala Dinner and Awards Ceremony showcases the best of Vancouver Island tourism representatives and businesses. The awards were presented at the Westin Bear Mountain Golf Resort & Spa on September 23. "The nominations for ...