Growing game at junior level crucial for golf industry
Posted on
1st July, 2014
/ Source: Brad Ziemer, Guest Contributor

"Get a Grip" Article by Guest Contributor Brad Ziemer, as featured in the July 2014 edition of the GolfBC eNews. Brad Ziemer covers the B.C. golf scene for the Vancouver Sun. He received Golf Canada's Distinguished Service Award in 2013 and was also named the PGA of British Columbia's Patron of the Year in 2013...
About 60 million rounds of golf were played by Canadians last year and the sport remains the No. 1 recreational activity in our home and native land. And that's great, right? Well, not exactly.
An exhaustive economic impact study on golf in Canada released last month by the National Allied Golf Associations confirms what golf course operators have known for some time. The game, on some levels, is spinning its wheels. As many people are leaving the game as are taking it up and those who are playing aren't playing as often. Those 60 million rounds logged in 2013 are 10 million less than the 70 million played in 2008.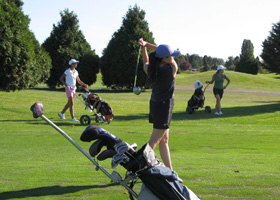 One of the most troubling findings in the report for me was that
the rate of youth being introduced to the game is less today than it has been for previous generations
. That should set off alarm bells in pro shops across the country. The combination of an aging baby boom generation -- which largely helped fuel the game's remarkable growth over the last three decades -- and a decline in junior participation is a potential double-bogey of sorts for the game.
The golf industry seems to have taken notice. Golf Canada and provincial golf associations are working to have the game introduced in more schools as part of the regular physical education curriculum. And more golf courses, like Mayfair Lakes in Richmond, are introducing Family Nights that combine golf and a meal at reasonable prices.
Junior golf almost has to become a loss leader of sorts for golf courses to help attract more young people and their families to the game. And the industry must do a better job of marketing itself as a family sport -- a family sport that can be played for a lifetime. The decline in junior golf participation has been more pronounced amongst young girls. This month's B.C. Junior Boys and Girls championships offer us an example. The provincial girls tourney is being played at The Dunes in Kamloops and just 50 young women were scheduled to compete. The boys play their provincial championship at Meadow Gardens in Pitt Meadows, where a full field of 156 was expected to tee it up.
Hopefully, Michelle Wie can help get more girls onto the golf course. Wie's win at the recent U.S. Women's Open at Pinehurst No. 2 in North Carolina should do wonders for women's golf. It's no coincidence that TV ratings for that tournament doubled over the previous year. Wie, like Tiger Woods, has that rare ability to move the needle. And let's face it, young women could pick a far worse role model than Wie, who put her professional golf career on hold to complete her education at Stanford University.
Of course, it doesn't help that golf, in some circles, seems to have fallen out of fashion. It's no longer cool, some suggest. Cycling is the new golf, others have maintained.
Well, anyone who watched Wie win at Pinehurst probably thought that was pretty cool. So is the fact that Tiger is back and will play at this month's British Open at Royal Liverpool. Some of the young stars on the PGA Tour like Rickie Fowler and Jordan Spieth should also help golf regain its cool stature.
But for me the coolest thing about golf is the game itself. It's a challenging, fun and at times frustrating game that seems to attract such good people. The fact you don't have to wear spandex shorts and a helmet while playing it is simply a bonus.