It's . . .time. . .to . . .speed. . .up. . .this. . .game
Posted on
1st June, 2014
/ Source: Brad Ziemer, Guest Contributor

"Get a Grip" Article by Guest Contributor Brad Ziemer, as featured in the June 2014 edition of the GolfBC eNews. Brad Ziemer covers the B.C. golf scene for the Vancouver Sun. He received Golf Canada's Distinguished Service Award in 2013 and was also named the PGA of British Columbia's Patron of the Year in 2013...
Slow play is no laughing matter, although our golfing friends south of the border have used a little comedy to effectively drive home the point that five-hour rounds are ruining the game.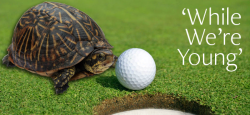 The United States Golf Association's recent 'While We're Young' campaign, starring the likes of Arnold Palmer, Annika Sorenstam, Tiger Woods, Paula Creamer and Clint Eastwood, was inspired by Rodney Dangerfield's iconic Caddyshack character Al Czervik. You remember Czervik, right? The loud-mouthed tycoon with a golf bag equipped with a beer tap and stereo. Fed up watching Ted Knight's character, Judge Elihu Smails, waggle for an eternity on the first tee, Czervik bellows: "
Let's go -- while we're young
."
That line was delivered nearly 35 years ago, but has never rung more true than today.
Slow play is a huge issue facing the golf industry. Ask anyone why they don't play golf, or play more often, and most will list time as their No. 1 obstacle. Let's face it, we all lead busy lives, and finding time to squeeze in a round of golf can be difficult. When that round takes five or more hours, which often amounts to a six- or seven-hour commitment when you factor in travel to and from the course, that is time many folks just don't have.
Most of us who play the game have our own Judge Smails. I have a friend who stands frozen over the ball for what seems like forever before he finally takes his swing. We joke that he must be reciting the Lord's Prayer before every shot.
It's funny, but it's not. For the golf industry, this is serious business. At a time when golf participation rates are falling, it's imperative that those in the industry do all they can to make the game more enjoyable for their patrons. The industry has tried. Most courses employ player assistants or marshals to try and persuade the slow-pokes to pick up the pace and some have time clocks posted around the course letting players know if they're falling behind the recommended pace of play. But it's tough. There are obstacles, not the least of which are some of the PGA Tour players we watch on television on the weekends. Jack Nicklaus certainly never set any speed records when he played and many of today's players, like Ben Crane, Kevin Na and Jim Furyk, drive their fellow players nuts with some of their pre-shot routines. Furyk has developed an annoying routine that sees him step away from a putt just before it looks like he's about to make his stroke. After he dawdled too long over a short putt at the recent Player's Championship and the horn sounded because of an approaching storm, NBC analyst Johnny Miller said: "When you take that long, that's what you get."
The trouble is, high-handicappers all over the North America watch these guys on TV and figure they should take their time over shots, too. Golf course architects also haven't helped. Too many courses, especially the newer ones, slow down play with too many forced carries, water hazards, deep bunkers and tight fairways.
The result is that too often we find ourselves standing and waiting on nearly every shot during some of our rounds. That's no fun and too much of it drives people away from the game.
Don't get me wrong. I am not here to suggest golf should become some kind of race. The social aspect of golf is what so many of us love about the game and we don't want to be racing through our rounds with no time to interact with the rest of our foursome. But just a little common sense will go a long way toward keeping things moving. Too many players -- and it's almost always guys -- play the wrong set of tees. Trust me, you'll have more fun and shoot a better score if you play the tee that is best suited for your game. And chances are, it's not that black set that measures 7,300 yards.
Play ready golf. If your playing partner who is away isn't ready to hit his shot, hit yours. And when your putt comes up a couple of feet short, don't mark it. Putt it out.
Let's make four-hour rounds the norm, not five.
While we're young.