Featured Offer
Game Packs at The Okanagan Golf Club
a great deal if you plan on playing more than 10 rounds this year!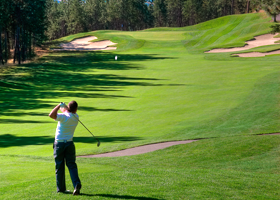 More Details
Junior Lesson Programs at The Okanagan Golf Club
Junior golf is flourishing at the Okanagan Golf Club. We are now the coaches of three school golf academies: Aberdeen Hall, Okanagan Mission Secondary, and George Elliot Secondary. We also boost as very successful Junior Summer Camp program. We pride ourselves in growing the game and the development of young golfers. We offer a wide variety of options in instruction from 6 year old beginners to University bound competitors.
Group and Semi-Private Lessons
Semi-private and group lessons are designed for 2-4 players. This is great way to learn the game with your friends in a fun and safe environment. Instruction will be tailored to the group's specific needs and can be arranged with your schedules in mind.
2 Students
45-minute Lesson
$40 per junior
Series of 4 Lessons
$120 per junior
3 Students
60-minute Lesson
$30 per junior
Series of 4 Lessons
$90 per junior
4 Students
45-minute Lesson
$25 per junior
Series of 4 Lessons
$80 per junior
Private Coaching
Private Coaching will give you a chance to work one-on-one with one of our trained instructors and are great for golfers of all abilities. Lessons will be tailored to your needs, and are booked to work with your schedule. Coaching available for ages 12-18.
Director of Instruction*
1 hour lessons

GBC Golf Academy Instructor
45 minute lessons

Single Lesson
$125
$85
Series of 3
$300
$225
Series of 5
$400
$300
12 hour Coaching Pass
$850
$750
*All Director of Instruction lesson packages include the use of FlightScope.
Junior Summer Camps
Our junior golf camps cover all the basics and fundamentals of the golf swing. We also teach the short game basics to become a short game wizard. Time and weather permitting we teach golf course management on the golf course. After the four days the kids will have a firm understanding of the basics of golf, golf course etiquette, and golf course management.
Four day camps for ages 8-18 years. Includes:
90 minutes of coaching
Lunch
9 holes of golf with their coach
$299.99 per child
Maximum of 12 students per week
2018 Dates
July 2, 3, 4, 5
July 9, 10, 11, 12
July 16, 17, 18, 19
July 23, 24, 25, 26
July 30, 31, August 1, 2
August 6, 7, 8, 9
August 20, 21, 22, 23
August 27, 28, 29, 30
"OGolf"
High performance Junior program
Do you have a junior that loves the game of golf and is looking to take their game to the next level? The Okanagan Golf Club is the first club in the Okanagan to offer a 12-month high performance junior program. This program is designed to give your junior every opportunity to reach their fullest potential. You will receive private instruction, on course group training session, and fitness and nutrition with our award winning GBC Academy Instructors.
Program Includes:
Private golf instruction
Fitness program
Body assessment: power of motion and range of motion
At-home fitness plan
30-week on course group training sessions
Tournament planning
Tournament training
Unlimited use of practice facility at the Okanagan Golf Club
Shot Data Tracking
Use of state of the art ball flight technology
Mental coaching
Course management strategy
Equipment assessment
Personalized team golf bag
Team golf shirts and hat
Tournament Support: Our coaches attend many of the major junior tournaments in Canada and the US with their students. A tournament schedule is created based on the Golf Canada junior tournament ranking, for the 2017 season. As a team, we attend MJT, CJGA, BCGA, and Golf Canada events.
Yearly Program
12-months
Season Program
8-months
for the junior looking to attain and University scholarship or become a touring professional.
for the junior that wants to play on their high school team and get the most out of their game while in high school.
$1000 down,
plus $180 monthly
$1000 down,
plus $200 monthly
To book a lesson, or for more information, contact:

Clay Stothers, Director of Instruction
"PGA of BC Teacher of the Year, 2014"
The Okanagan Golf Club: The Bear and The Quail
cstothers@golfbc.com
250.765.5955 or 1.800.i.GolfBC