Featured Offer
Value Pass
Unlimited Golf at Olympic View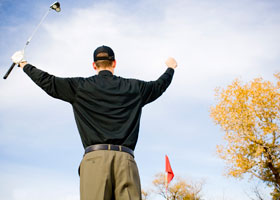 More Details
Group Classes & Clinics
The GBC Golf Academy introduces our new and improved Group Classes and Clinics designed to create a stimulating and enjoyable group learning environment. Our Classes/Clinics will cover a wide range of topics that cover all parts of the game. These group programs offer excellent value and are a great option for golfers who haven't had previous instruction or feel more comfortable in a group setting.
Custom Clinics
At the GBC Golf Academy we will create the perfect custom clinic or clinic series for your group. Contact our Director of Golf, Matt Cella, at (250) 474-3673 ext. 241 for more information!
3-Day Golf School
The 3-day Golf School is based on the same principles as the Unlimited Coaching Program (see below). You will learn how to play better, score better, and learn the keys to lasting improvement.
Golf School includes:
45 holes of golf (with power cart)
2 lunches
6 hours of instruction
Unlimited use of practice facility
Day One:
4pm: Introduction and range warm-up
5pm: 9-hole playing assessment and improvement plan created with your coach
Day Two:
10:30am-1:30pm: Implementation of practice plan
12:30-1:30pm: Lunch (included)
1:30pm: 18-holes (with power cart)
Day Three:
9:30-11:30am: Review round and implementation of practice plan
11:30am-12:30pm: Lunch (included)
12:30pm: 18-holes (with power cart)
Post-Round: Wrap up
2017 Dates:
May 5, 6, 7
Ladies Only Clinics
Our Ladies Only clinics are designed for those that are new to golf or want to take a few introductory lessons to brush up their game. PGA Professional and GBC Academy Instructor, Alanna Deegan, will guide students through four, 1 hour sessions incorporating irons, woods, putting, and chipping. Clinic also include a 1-hour on course lesson after the driving range session on the last week.
2017 Dates
6 -7pm
Mondays, April 3 - April 24
Mondays, May 8 - May 29
Mondays, June 5 - June 28
Wednesdays June 7 - June 26
Wednesdays, July 5 - July 26
Mondays, July 10 - July 31
Mondays, August 7 - August 28
Get Golf Ready - Mixed Classes
Get Golf Ready is intended to introduce adults to the game in a fast, fun, and gratifying way. The program offers a series of five lessons in a small group environment.
| | |
| --- | --- |
| 2017 Dates | Time |
| Saturdays, April 1, 8, 15, 22, 29 | 11am-12pm |
| Wednesdays, May 3, 10, 17, 24, 31 | 7-8pm |
Get Golf Ready 2.0
Get Golf Ready 2.0 carries on from the original Get Golf Ready series and builds on the skills already gained. The core golf skill will be more details in order to refine your technique. Here, the golf course is introduced with two, 2-hour on-course sessions.
2017 Dates
6-7pm
*last two sessions of each series will be from 6-8pm to allow for on-course lessons
Fridays, April 7, 14, 21, 28*, May 5*
Fridays, May 12, 19, 26, June 2*, 9*
Wednesdays, June 14, 21, 28, July 5*, 12*
The Ultimate Coaching Program
The Ultimate Coaching Program is a 10-week program with guaranteed results!
5 on-course sessions and 5 practice facility sessions make up the structure of the program. Whether you're a beginner, intermediate, or advanced player, you will learn how to score better on the golf course. Lead by Director of Instruction, Matt Cella, you will be shown not only how to improve your score but also practice strategies for lasting improvements and reaching your golfing goal - guaranteed!
$699 (+tax, per person)
or 3 monthly payments of $233 (+tax)
Contact Director of Golf,
Matt Cella
at (250) 474 3673 x.241 for more information