Featured Offer
Ladies Choice at Olympic View
"Unlike any other Ladies' Night!"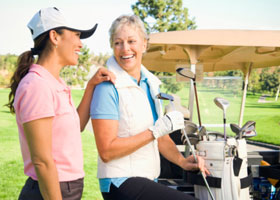 More Details
Junior Academy
2018 will see our junior programs and academy continue to develop and grow. Our programs encompass all levels and ages from 4 to 18.
Following Golf Canada's Long Term Player Development Guide, our programs will continue to grow the game and instill a love for golf in our junior students. To help aid in this, all juniors enrolled in our instruction programs (from FUNdamentals to Introduction to Competition) will be able to join us in our GBC Golf Academy Junior Night.
These nights will take place once a month and will allow for juniors to be assessed in our junior hat levels as well as make new friends.
We believe with the programs we have in place and our dedicated coaching team we are able to give juniors the coaching, instruction, and positive support needed for them to improve their games and grow as an individual. We have a clear path for our juniors to follow to enable them to see long term improvement and achieve their golfing potential.
We look forward to seeing them in 2018!
Junior Camps
Designed to engage kids in a fun, fast paced environment where they develop their golf skills and athletic abilities on and off the golf course. Following Golf Canada's Long Term Player Development model, your child will learn golf through age and skill appropriate activities that will be sure to keep them entertained and happy while improving their golf abilities. Suitable for juniors 7 - 13 years old. Golf clubs provided if needed, all students should being appropriate clothing for the day, snacks, and drinks
2018 Dates
9am - 12pm, Monday - Friday
July 9 - 13
July 23 - 27
$159 (+tax) per student
Little Bogeys (Ages 4 - 6)
A fun, exciting, and high energy introduction to golf. Kids learn fundamental movement skills and link them together in both play and golf.
2018 Dates
2 - 2:45pm, Saturday
April 7 - 28
May 5 - 26
June 9 - 30
1 Month: $85 (+tax)
3 Months: $75 (+tax, per month)
FUNdamentals (Ages 7 - 9)
The FUNdamentals program is designed for junior golfers that are either new to the game or have had basic golf instruction. Golf and athletic skills are introduced, then learnt through fun games and activities. Golfers will learn the basic skills of putting, chipping, and full swing.
2018 Dates
3-4pm, Saturday
April 7 - 28
May 5 - 26
1 Month: $90 (+tax)
3 Months: $80 (+tax, per month)
Learn to Play (Ages 10 - 12, or dependent on ability)
The Learn to Play program is designed for juniors who have had previous golf exposure. We focus on growing their love for the game while developing their skills so that they are confident and competent to play on the golf course.
Tuesdays, 3:30-5pm
10 sessions
1 Month: $115 (+tax)
3 Months: $105 (+tax, per month)