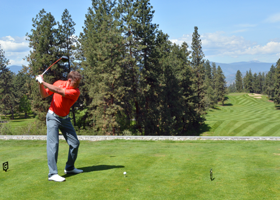 NEW For 2022 at Gallagher's Canyon.
For the golfer who really wants to elevate their game, the Gallagher's Canyon Golf Academy now offers a professional caddying experience.
Learn how to analyze each shot and the process required to make the correct decision on the club you need to use. At the end of the 9 or 18-hole experience, we will provide a 'cheat sheet' for all of your actual distances for clubs that you hit on the course and a detailed outline of the way to play the course to the best of your ability…
PRICING:
9 holes: 6 credits/$135
18 holes: 10 credits/$225
Email Academy Director, Jonathan Garratt,
[email protected]
, for more information. Purchase credits via the link below.
Back to Special Offers