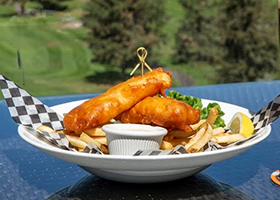 Four Family Combos to choose from starting December 27th, at Table Nineteen Olympic View
Fish & Chips for the Family $80
Four [4] beer battered halibut; hand cut fries, coleslaw, tartar sauce
Burgers for the Family $68
Four [4] burgers, your choice of either the deluxe burger or crispy chicken bacon burger; hand cut fries or caesar salad (vegetarian option: substitute black bean veggie patty)
Pizza for the Family $68
Four [4] pizzas, your choice of the italian, margherita or pesto prawn; all natural house made crust
Wings for the Family $60
Your choice of four [4] sets of wings from the following list of flavours: buffalo, honey garlic, sweet chili or montreal spice; served with ranch dip and crudites
BONUS: All take-out combos packs include a 4-pack of pop: your choice of Pepsi, Diet Pepsi, Ice Tea or 7-UP.
How to Order:
Take-out at Table Nineteen is available during restaurant hours, contact (250) 474-3673 (press 3) to place your order.
Note: winter hours in effect starting December 27th: 11-5 Sunday - Wednesday, 11-8 Thursday - Sunday. Take-out must be ordered within restaurant hours and picked up no later than 30 minutes after closing.
All prices are subject to applicable taxes. Contact Table Nineteen for additional details. Take-Out offerings and hours are subject to change.
Back to Special Offers