Featured Offer
Golf for FREE?
You could be Mayfair Lakes' next Golfer of the Day!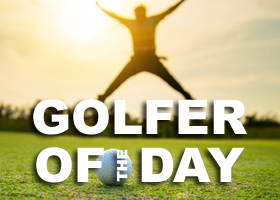 More Details
Pro Tips - Stop Topping the Ball

Pro Tips by Keri Moffat, CPGA
Director of Golf, GBC Golf Academy at Mayfair Lakes
kmoffat@golfbc.com
Stop Topping the Ball
After topping a ball, how many times have you heard "You're lifting your head"? So you tuck your chin into your chest and proceed to top the next shot. A topped shot is NOT the result of a player lifting their head, but instead stems from the wrong belief that you need to get under the ball in order to lift or "scoop" it into the air.
First, in order to launch the ball into the air, your club must strike down through the ball, not scoop under the ball. To kick a soccer ball in the air, you must kick down, the same principle applies in golf.

Second, when striking down at the ball, hitting the grass and making a divot is a good thing, as long as the divot comes after the ball.