The 2019 GolfBC Championship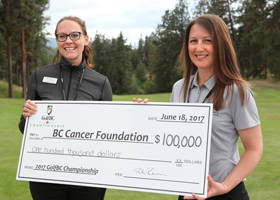 The GolfBC Championship congratulates
Jake Knapp
on being our 2019 champion! The Mackenzie Tour – PGA TOUR Canada event returned to Gallagher's Canyon June 10-16 and over its four years has made a significant positive charitable impact in the Kelowna area with $600,000 raised for charity, $500,000 of which has been awarded to the event's designated charity, the BC Cancer Foundation. In 2017 the event supported the Canadian Red Cross for Kelowna flood relief with a $50,000 donation, and in 2019 the Kelowna community helped nominate and then vote for the Central Okanagan Food Bank to receive a $50,000 donation. Visit the event website for stories, updates and photos!
golfbcchampionship.com
Change of Ownership of Arbutus Ridge and Furry Creek
As part of GolfBC's new strategic direction that focuses on golf assets closer to major metropolitan centers and resorts, the company announced the sale of
Furry Creek
(2017) and
Arbutus Ridge
(2019). GolfBC looks forward to continuing its operation of all its other golf courses in BC and Hawaii, as well as growing its food and beverage program and other leisure activities to diversify product and service offerings within its already successful golf operations. GolfBC would like to thank the staff, management, members, residents and guests of both facilities for being a part of our golf family, and wish the new owners and the facilities much success in the coming years.
What's New at GolfBC
Read about what's new at our golf courses and in the industry.