About GolfBC
Featured Offer
Give the Gift of Golf
Nicklaus North offers special pricing certificates for a limited time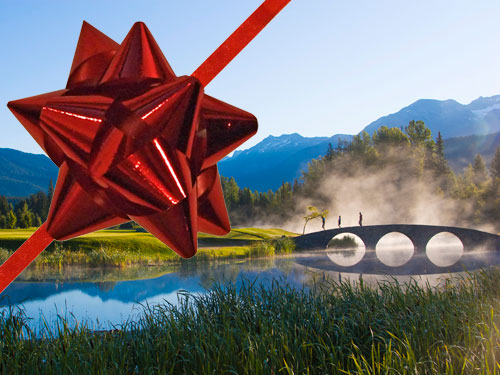 More Details
GolfBC Media and Press Room
Welcome, and Thank You for your interest in the GolfBC Group - owners and operators of twelve golf courses throughout British Columbia and Hawaii and the Crystal Lodge in Whistler Village. To read about what's new at GolfBC, scroll down to "News", a listing of our Press Releases.
News
28-AUG-2009
The Satellite Bar & Grille at Arbutus Ridge Golf Club is pleased to be chosen to host the "Official Launch Party" for the Cowichan Wine & Culinary Festival Sept 19-20, presented by Island Savings. The launch party is Friday, September 18 2009 from 6-9pm and includes appetizers prepared by Executive Chef Rick Davidson, entertainment and wine tasting from four local wineries. The Satellite Bar & Grille recently joined the Wine Islands Vintners Association and has hosted two previous sell out Winemaker's ...
04-JUN-2009
The GolfBC Group, a Canadian leader in player development in the golf industry, announces the return of its successful "Family Golf Day" this June at its British Columbia courses. As part of GolfBC's continuing commitment to growing the game of golf among players of all ages and abilities, " Family Golf Day" provides families with opportunities to have fun and learn together in an open and relaxed environment. Last year more than 200 golfers participated in the launch of "Family Golf Day." Once again this ...
19-MAY-2009
Beginning August 1, renowned chef Bev Gannon will take over the SeaWatch Restaurant at the Wailea Golf Club's Gold & Emerald Clubhouse. The popular open-air eatery, known for its sweeping views of the Wailea Gold Course and offshore islands, will be Gannon's second restaurant in Wailea Resort. She also leases the popular Joe's Bar & Grill at the Wailea Tennis Club from the same owners of the Wailea Golf Club. "Bev has a stellar reputation as one of the world's most innovative and celebrated chefs, and we ...
01-MAY-2009
GolfBC's fourth annual "Free Lesson Month" teed off again this May at all nine of its British Columbia courses. From 4 p.m. to 6 p.m. every Saturday in May, GBC Golf Academy's experienced, certified Canadian PGA instructors will be on hand to provide 10-minute swing tips to all guests. Since its launch in 2006, more than 700 golfers have taken part in "Free Lesson Month," which includes complimentary practice balls and equipment. "We're delighted to bring 'Free Lesson Month' back to GolfBC," said Andy ...
01-OCT-2008
Arbutus Ridge Golf Club in Southern Vancouver Island is known for its lush landscapes and ideal climate, so it seems fitting that Arbutus Ridge employees are passionate about the environment. When General Manager Jason Lowe heard – via a performance review – team member Gracie Wilcox's concerns about making the workplace more eco-friendly, he realized that they shared a dedication for the environment, and asked her if she would be interested in chairing a Greening Committee at Arbutus Ridge. The Greening ...