Featured Offer
Golf and Dinner!
At Olympic View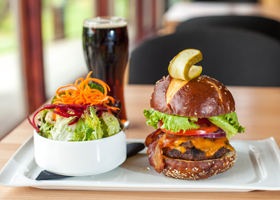 More Details
Meetings & Banquets
Entertain, meet, dine and impress at Olympic View
Olympic View Golf Club marries beauty and convenience in one special destination. Just 20 minutes from downtown Victoria, Olympic View is an ideal choice for personal celebrations, corporate banquets, business meetings and trade shows. Our professional team offers an array of choices for personalizing each event, and works hard to ensure that every detail matches your budget, taste and expectations. From barbecues to cocktails parties, Olympic View does it all. With banquet space to accommodate up to 350 guests for a stand up cocktail party, and up to 250 guests for a seated banquet meal, Olympic View is a popular choice for company parties and wedding receptions in the Victoria area.
We can personalize your event to your needs, taking pride to ensure no detail is overlooked. Let our team of professionals do the work, while you enjoy the day!
How did we do?
Testimonials
"Katrina and her staff were wonderful to deal with, very professional and friendly, I didn't have to worry about anything, she paid attention to every detail and made sure the day went smoothly! The venue itself was clean & spacious, bathrooms were clean and well appointed and convenient parking and the view is lovely. The room was setup very well for our needs. We thought it was above what we have experienced in other golf courses. And the quality of the food was superior...our compliments to the kitchen!!!"
Jim ten Hove
"The staff were in tune with our event and didn't disturb during the few speeches or entertainment and were discreet when clearing tables afterwards. Everything was set up as planned and looked very elegant. Dinner was highly spoken of with the addition of extra hot foods this year, much appreciated!"
Patti Richter
"Olympic View is large enough to be consistently professional and small enough to provide personalized service - it's a great combination"
Carlos Hernandez
Information & Contact
Katrina Milne
Wedding and Banquet Coordinator
Phone: (250) 474-3673 ext 252
Email:
kmilne@GolfBC.com