About GolfBC
Featured Offer
Take 30!
Online Savings at Arbutus Ridge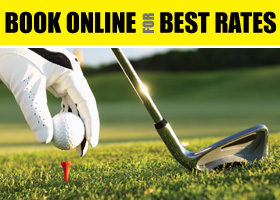 More Details
GolfBC Media and Press Room
Welcome, and Thank You for your interest in the GolfBC Group - owners and operators of twelve golf courses throughout British Columbia and Hawaii and the Crystal Lodge in Whistler Village. To read about what's new at GolfBC, scroll down to "News", a listing of our Press Releases.
News
12-JUN-2012
The GolfBC Group, a Canadian leader in player development in the golf industry, announces the latest addition to its "Growing the Game" initiatives, the GolfBC Quik Tees. Painted a vibrant orange colour and placed approximately 150-200 yards from the green, the new tee boxes will shorten the courses to approximately 3,000 yards, while maintaining the established par of each hole. The new Quik Tees will offer an opportunity for golfers of all abilities to play a championship golf course, making golf more ...
19-APR-2012
A West Coast Mountain Contemporary home designed by local architect Brigitte Loranger features interior design by Vancouver based Maza Interior Design. Drop by for a tour of this amazing home, and to meet our Team, on Saturday between 12-4pm. Address: 8000 Cypress Place in Whistler, BC (first house on the right as you enter the Cypress Place neighbourhood). The Show Home The show home has many sustainable elements such as geothermal heating and cooling, triple pane windows, energy saving lighting and ...
16-NOV-2011
Arbutus Ridge Golf Club is pleased to be celebrating its 25 year anniversary in 2012 with a number of exciting promotions over the coming year. The golf course was established in 1987 and plans are in place to celebrate the milestone, beginning with a Membership offer called the "Free Agent". Arbutus Ridge will introduce more offers in 2012 promoting the Satellite Bar & Grille restaurant, green fees, Golf Shop retail items and tennis specials. The "Free Agent" Annual Membership offer is valid for new ...
12-MAY-2011
GolfBC, Western Canada's largest golf course owner & operator, announces the launch of its iPhone mobile application to allow golfers to book real-time tee times 24/7 through their iPhone or iPad at all of GolfBC's 12 courses throughout BC and Maui. The GolfBC app can be downloaded for FREE from the iPhone App Store. In addition to tee times, the app features golf course contact information, interactive map and directions to the course, live course Twitter feeds, live GolfBC Facebook feed, daily weather ...
10-MAY-2011
Canada's top junior golfers will compete in Cobble Hill, B.C. from May 12-15 as CN Future Links begins its 12th championship season with the CN Future Links Pacific Championship at Arbutus Ridge Golf Club. The tournament marks the first of six regional CN Future Links Championships held in each region of Canada, showcasing two divisions: Junior Boys 18 years and under and Junior Girls 18 years and under. The CN Future Links Pacific Championship will see 99 golfers competing in a three-day 54-hole stroke ...