Posted on
1st March, 2014
Source: March eNews
When the Weather throws us a Curveball
What does it take to clear 20 greens in 3 days? It takes 3 guys, 4 shovels, and 1 tractor to remove the buildup of snow and ice on the greens at
Nicklaus North
in Whistler, as seen in the above video.
Clubhouse Renovations
Over the last few years, the hedge surrounding the
Okanagan Golf Club
patio (which overlooks the 18th green of the Bear and the Practice Facility) had been struggling in regard to health and general aesthetics. From people leaning on the hedge, falling in, bending back branches, etc., the hedge gradually lost its original look and luster. Last fall the remainder of the hedge was removed completely, and this spring the hedge will be replaced with a beautiful glass infinity railing (see sample in image). This infinity railing will elevate the overall look of the patio area as well as dramatically improving the view lines from the patio so that guests will have a completely clear 180 degree view of the entire natural surroundings that the Okanagan Golf Club patio has to offer. Needless to say, this in turn should improve every sip of Okanagan Wine and/or savory spirit that is consumed on the patio. Estimated completion date is April 1st.
Olympic View
also has big changes ahead, as exciting renovations have kicked off on the wrap-around patio, front entrance and roof of the Clubhouse.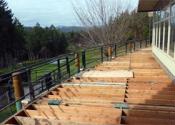 The jack hammering process has already begun and an anticipated completion date of June 1st is set. Just in time for warm summer evenings and chilled drinks on the patio after a great day on the course. Everyone is looking forward to an updated look and feel around the Clubhouse!
Furry Creek
is also looking forward to an update to their award winning Clubhouse. They will be receiving new outdoor modular patio seating for the Pacific Room Patio just in time for the summer season.
Golf Course Improvements
Furry Creek
is in the process of repaving the cart path behind 3 green to the bridge deck of tee 13.
The final stages of the 150 yard fairway drainage project on hole #12 at
Arbutus Ridge
is now complete. Many other drainage improvements have been made over the years including the fairway on hole #8 in 2012. Other notable improvements at the course this winter include:
Planting 20 new trees
Renovating a clubhouse washroom
Purchased a tow behind "brush" to significantly improve aeration procedures and to help other cultural practices for our greens.
All new practice facility mats with new tee system
All on-course signage is being updated/replaced