One of Canada's Great Golf Instructors visits Gallagher's Canyon
Posted on
22nd May, 2015
/ Source: Peter Hopley, Gallagher's Canyon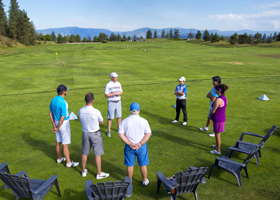 May 22nd kicked off the first of two golf camps tought by
Tristan Mullally
at Gallagher's Canyon Golf Club.
Tristan is the Canadian National Team Coach for Canada's top young golfers, and it's great to have him join us here at Gallagher's and work with 6 keen local players who will certainly gain a lot from a full day of instruction.
Tristan's passion lies in working with strong young players who aspire to play at the highest level. Most notably would be Canadian
Brooke Henderson
who is quickly becoming a force to be reckoned with on the LPGA Tour. That said, he has the experience of working with likes of
Graeme McDowell
and many other top ranked players on the PGA and European Tours.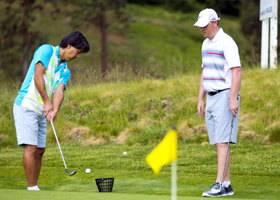 He has taught with, and added to his golf knowledge from veteran golf instructor Pete Cowen. Cowen's name in synonymous with so many of the game's best.
Also helping out at these two golf camps and working with Tristan for the National Golf Team is good friend and Physiotherapist, Greg Redman from Wave Physio. Greg provides strength training programs and physio for the National Team.
Great to see our young aspiring Canadian golfers are such good hands!
Peter Hopley
Executive Golf Professional and General Manager, Gallagher's Canyon