Here is my golf story... or 26 of them rolled into one
Posted on
1st June, 2015
/ Source: Brad Ziemer, Guest Contributor

Article by Guest Contributor Brad Ziemer, as featured in the June 2015 edition of the GolfBC eNews. Brad Ziemer covers the B.C. golf scene for the Vancouver Sun. He received Golf Canada's Distinguished Service Award in 2013 and was also named the PGA of British Columbia's Patron of the Year in 2013...
If you play golf, chances are you have a story or two to tell.
The Canadian golf industry is hoping some of us will share our stories. The campaign -- called
Golf Canada Golf
-- is designed to promote the game through inspiring stories shared by golfers from coast to coast. There's a website --
golfcanadagolf.ca
-- where stories can be posted and shared. Have a look. There are some good ones.
I thought I'd use this space to share my golf story. Actually, it's about 26 of them rolled into one.
Later this month, I will head out on a four-day B.C. golf vacation with seven other guys. We've been doing it for 26 years now and with a couple of exceptions, it has been the same eight guys every year. A couple of them are old high school buddies of mine, some of the others I hadn't met until we began this annual odyssey.
None of us are any good. And over time we have proven that our golf games are not like fine wine. They most definitely have not gotten better with age.
We have played all over B.C. and have ventured stateside a couple of times. There was the time -- 1994 -- when we went to Las Vegas, but I can't get into that because, as you know, what happens in Vegas stays in Vegas...
We have made way more bogeys -- doubles, triples, quadruples and beyond -- than birdies, but we have had so much fun along the way. It is all that laughter, on and off the course, that I most cherish about these trips.
In the early days we had a tour jacket, a la the green jacket at The Masters, except this one was the ugliest plaid blazer you could imagine. One of the guys had picked it up at a flea market and the guy who shot the day's best score had to wear it at dinner each night. It most definitely got you some looks as you entered a fine dining establishment.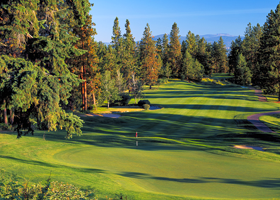 My on-course highlight came way back in 1993, when I scorched Gallagher's Canyon in Kelowna. That night at dinner, at a rather emotional ceremony, I was presented with a Certificate of Merit by the group. It read: "Be it known to all that Mr. Brad Ziemer recorded a score of 77 at Gallagher's Canyon Golf Course on Friday, May 14, 1993. Not bad for a chop." And yes, it was from the white tees.
This year, we are making our assault on the Kamloops area, where we'll tee it up at Tobiano, Sun Rivers, Talking Rock and Rivershore. That visit to Rivershore figures to be an emotional one. It was at that layout, designed by the esteemed Robert Trent Jones Sr., that the 'bathroom incident' occurred a few years back. I was playing in the second of our two foursomes and we were on the tee of the par 4 third hole at Rivershore. We noticed that one of the guys in the first group looked to be in, well, distress. He had just played his approach shot to the green when he suddenly began running toward one of the nearby houses. Nature had apparently called in a big way and he needed a bathroom. Now. We were a long way from the clubhouse and none of the on-course facilities were nearby. So he did what he had to do. He pounded on the front door of the nearest house and a kind woman let him into her home to use the bathroom. I could go on, but you get the idea. We have had a lot of laughs along the way and golf is what brings us together each year.
The idea of this campaign being run by Golf Canada is that by reminiscing about our golf experiences, it will remind us just how much fun we have had playing the game. And maybe that will inspire us to play a little more and persuade others to begin playing this wonderful game.
#GolfCanadaGolf