About GolfBC
Featured Offer
Winter Lesson Rates now Available
Private instruction with a PGA of Canada certified, Olympic View Academy instructor at a discounted rate, all winter long!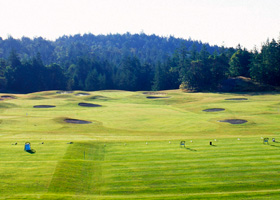 More Details
Wailea Tennis Club pro earns USPTA certification
30th April, 2004
Wailea, Maui – Lovell earned his certification after an extensive examination of tennis operations management skills, tennis-teaching and playing skills, stroke analysis, and demonstrations of group and private lessons. The certification process included a two-hour written exam.
"It is important that the student knows his or her teaching professional has the proper teaching credentials," said USPTA CEO Tim Heckler.
"Attaining USPTA certification is an excellent way for professionals to demonstrate their qualifications and commitment to continual improvement."
USPTA currently has more than 12,500 members world-wide.
For more information about teaching programs for adults and juniors, contact the Wailea Tennis Club at 808-879-1958.
Contact: Luly Unemori, Pono Communications LLC | Phone: (808) 986-0404 | E-mail:
[email protected]