Lakeside Grill Daily Winter Specials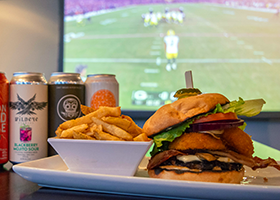 Every day is a great day to visit The Lakeside Grill at Mayfair Lakes!
Monday | ALL DAY
A brand new feature in the roster: join us for Chow Mein Mondays - $23
Tuesday | AFTER 3PM
Looking for a night out together with someone special? How about Date Night Tuesdays, where you can enjoy a shared appetizer, 2 entrées, a dessert, and a half litre of our house wine for only $85!
Wednesday | AFTER 3PM
Every Wednesday is a B2 Wednesday - a Burger + Beer! Enjoy one of our mouth-watering burgers paired with a cold beer for only $25.
Thursday | AFTER 3PM
One of our most popular nights, Thursdays are Schnitzel Night at The Lakeside Grill. Indulge in our delicious Pork Schnitzel, and pair it with a 6oz glass of House Wine or a Draft Beer (excluding Stella Artois) for only $29.
Friday | AFTER 3PM
Every Friday at The Lakeside Grill we will have a different seafood feature unique from our everyday menu. Find out what's on feature this Friday by calling in for a reservation!
Saturday | AFTER 3PM
Back by popular demand, enjoy a 3-Course Dinner on Saturday nights. You can choose from a Soup or Salad starter, an Entrée, any one of our house made desserts, and a 6oz glass of house wine for only $53! Book your prime table today!
Sunday | AFTER 3PM
Slow Roast Sundays has a nice ring to it, doesn't it? Well how about coming to The Lakeside Grill to enjoy the delicious combination of a 12oz Prime Rib with your choice of a 6oz glass of our house wine - $45!
More Information & Contact
*Prices are subject to applicable taxes and gratuity. Some conditions may apply. Reservations are encouraged.
Back to Special Offers