Ladies Lessons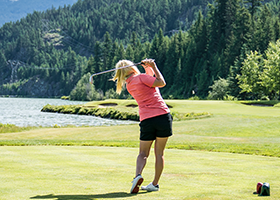 Beginner to intermediate ladies-only lessons at Nicklaus North available from $109 per person!
Ladies Lesson Basic
This class will introduce you to the game of golf. You will gain confidence and understanding of how to use a practice facility and your golf clubs. There are many facets to playing golf that will be covered including putting, chipping, full swing using irons, hybrids, and woods. This class will be fun and engaging.
Ladies Lesson Tune Up
This class is the perfect refresher course for those who have played and taken lessons before. We will return to skills necessary for consistency, better ball striking and improved distance. Good practice habits will be taught.
**NEW** Includes 1 private practice sessions in the cabin using Trackman 4 and video analysis, valid over the 4 week course of your lessons - $60 value!
**NEW** Ladies Lesson Tee It Up On Course
This 2.5-hour class will take participants out on to Nicklaus North Golf Course! Starting at 6pm, our golf professional will guide you through the joys and perils that many encounter while playing golf. This includes gaining confidence at the first tee, understanding course etiquette, getting to know your ball flight, trouble shots and score saving solutions. Maximum of 4 participants.
We recommend that you have previously completed our basic class before joining this course.
Back to Special Offers