Special Offers
Featured Offer
2020 Game Packs on Sale NOW
at Gallagher's Canyon, Pinnacle AND Canyon Course options available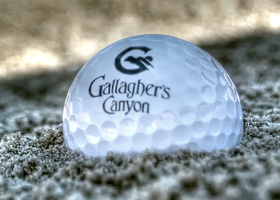 More Details
Ticket to Golf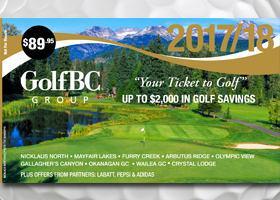 GolfBC's coupon booklet with up to $2,000 in savings!
The GolfBC Group is proud to offer "Your Ticket to Golf".
Take advantage of these great offers at nine of the very best golf courses located in British Columbia and Maui! We look forward to seeing you on the tee! Purchase yours today at any of GolfBC's British Columbia golf courses for $89.95.
The Ticket to Golf Coupon Book features 24 Vouchers offering up to $2,000 in savings, such as:
2-for-1 Golf
15% off Golf
2-for-1 Appetizer
Free Club Fitting
NEW THIS YEAR GolfBC Prize Package Contest
Merchandise, Power Cart, Rental Club Discount and more!
Additional savings from the Crystal Lodge & Suites in Whistler, and from three GolfBC partners: Labatt Brewing, Adidas and Pepsi/Aquafina!
Note: offers are subject to conditions and restrictions - please check each voucher carefully for all the details! Coupon book is not for resale. Effective July 12, 2019 Arbutus Ridge is no longer owned and operated by GolfBC Group, but they will honour current vouchers until their expiry.
Back to Special Offers