Time to drop the puck and pick up those clubs
Posted on
1st May, 2015
/ Source: Brad Ziemer, Guest Contributor

Article by Guest Contributor Brad Ziemer, as featured in the May 2015 edition of the GolfBC eNews. Brad Ziemer covers the B.C. golf scene for the Vancouver Sun. He received Golf Canada's Distinguished Service Award in 2013 and was also named the PGA of British Columbia's Patron of the Year in 2013...
It would have been fun to see the Vancouver Canucks go on a long Stanley Cup playoff run. But there is a consolation prize of sorts after the Canucks bowed out in the first round, losing in six games to the Calgary Flames. As I was saying to my wife just the other day, 'well, now it's officially golf season.'
For me, golf season doesn't really start until the Canucks are done. I cover the team for the Vancouver Sun and when the Canucks are in the playoffs, things are just too crazy at work to squeeze in a round.
I suspect I'm not alone. I remember in 2011, when the Canucks made it all the way to Game 7 of the Stanley Cup final, there were a lot of empty fairways throughout the province come late afternoon on game nights. No one wanted to miss the opening faceoff. Now there are no excuses. We're free and clear to start swinging.
And of course, this year is going to be different. It's funny how I begin each golf season thinking this is really going to be the year when my game turns the corner. At my age, I should have learned long ago that's probably not going to happen. But you just never know, right?
Speaking of optimism, I sense there is more of it these days in the B.C. golf industry. We've heard lots of doom and gloom about the state of golf in recent years, but in talking with a few B.C. golf operators earlier this spring, there was a real sense that this may be a rebound year of sorts.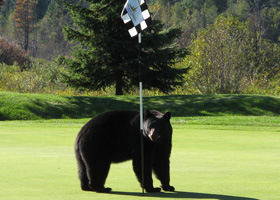 Courses in Whistler and the Okanagan opened early and several Metro Vancouver area courses set records for rounds played in February and March.
Our mild winter undoubtedly had something to do with that, but I also got the feeling that many folks were anxious to get an early jump on the season. A couple friends of mine have already played more golf this year than they did all of last year.
I'm not just looking forward to playing lots of golf this year. There should also be some great golf to watch, or in my case, write about.
The
PGA Tour Canada
circuit makes its second stop at Point Grey Golf & Country Club late this month for the
$175,000 PC Financial Open
. Last year's inaugural event went right down to the 72nd hole with B.C. pros Eugene Wong of North Vancouver and Brad Clapp of Chilliwack finishing just one shot back of winner Joel Dahmen of Washington state.
Dahmen ended up earning one of five PGA Tour Canada promotions to the Web.com Tour. That's one of the neat things about the PGA Tour Canada circuit. If you come out to watch one of their events -- and there's a second one at Uplands Golf Club in Victoria in early June -- it's almost a guarantee that in a couple of years you will be watching the PGA Tour on TV and saying something like, 'hey, I saw that guy play at Point Grey a couple of years ago.'
The highlight of the B.C. tournament calendar comes in late August when the LPGA Tour returns to Vancouver Golf Club in Coquitlam for the $2.25 million Canadian Pacific Women's Open. If this event is anything like the one played at VGC back in 2012, it should be something special. Nearly three years ago, a then 15-year-old amateur named Lydia Ko made history by becoming the youngest winner in LPGA Tour history. All Ko has done since then is become the world's No. 1 player. She's won six other LPGA Tour events and hasn't missed a cut in more than 50 LPGA Tour events. She'll be back at VGC in August, still only 18, but won't be the youngest player in the field. That may be 17-year-old Brooke Henderson of Smith Falls, Ont., who almost beat Ko late last month at a LPGA Tour event in San Francisco. Wouldn't it be fun to see those two playing in the final group at VGC in August?