Posted on
1st October, 2013
Source: Peter Bondy, Superintendent at Furry Creek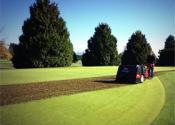 You may have noticed a couple of times each season that your favourite course is closed for aeration. Below is a brief explanation of this necessary process! First off, there are two types of basic aeration that most golf courses will undergo throughout the season.
1) Solid Tine - A solid tine creates a slight displacement and does not really disturb the surface as much, These all come in varying sizes and can be done at almost any time to remove surface tension so water infiltrate the soil. This can be done at anytime and has minimal interruption to the surface.

2) Hollow Tine - Removes the soil, thatch and grass (cores) This is the most common type of aeration. With some of the new aerators that we use, you can alter the space and displace 3% to 7% of the surface. This is done to reduce thatch and relieve soil compaction. This will allow air to get into the surface and reduce compaction so water and oxygen can move easier throughout the green thereby promoting better deep root development. We then top dress with a mixture of USGA Spec sand to improve the soil and create a smoother playing surface. Typically golf courses aerate two times a year. Once in the Spring and once in Fall.

This is a crucial maintenance practice that also prevents flooding of the greens on days when we get rain. To sum up why we aerate - it is for preventative maintenance to keep those greens rolling true when you make that clutch putt!
Peter Bondy
Head Superintendent | Furry Creek Golf & Country Club