Posted on
2nd November, 2014
Source: November eNews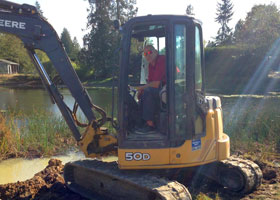 We are very fortunate to have the best in the business, like Arbutus Ridge Golf Course Superintendent Gary Stadnek! The hard work and expertise of Gary and the team in rebuilding #11 tee to eliminate it as a blind shot and focus shots more down the centre of the fairway was very appreciated. You will now be able to see the target bunker and your ball land. 8ft was added to the back of the tee box and it was re-shaped to properly fit the centre of the fairway. Gary also seized the moment by getting tee box "fill" from digging out more space from our irrigation pond, adding more pond space to help our irrigation needs next year. We're also installing new irrigation for proper coverage of the tee. A very special thank you to Gary and the team, cheers to continuous improvement at the Arbutus Ridge Golf Club.
Gary Stadnek brings with him extensive golf knowledge, graduating at the top of his class in Greenspace Management, and has worked on courses from Ontario to the renowned St.Andrews in Scotland. We asked him a few questions:
What do you like about Arbutus Ridge?
It's a solid layout which can be a lot of fun to play for either the low or high handi-capper. It's an environmentally friendly golf course, which is only two sections away from being Audubon Certified. Also, I like the challenge of continually raising the bar on course conditioning.

Currently, what is your biggest challenge?
Irrigation! This summer has been a big challenge. The course draws its water from five wells around the course. However, I am interested in seeing how the course makes out during our damp winter months. I may change my tune to drainage in the spring!

What changes would you like to see at Arbutus Ridge?
I will be continuing to work with the club's Master Plan on several irrigation and drainage projects around the course as well as the development of a bunker renovation plan as funds allow.