The Amazing Race Canada finishes at Nicklaus North in Whistler!
Posted on
29th September, 2015
/ Source: Nicklaus North Golf Course
What an Amazing Race to Nicklaus North!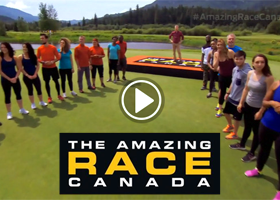 Filmed on May 28th, the finale of the Amazing Race Canada (season 3) culminated at Nicklaus North Golf Course. Finally airing on CTV on September 23rd, the final stretch of the
48,000km race
started in Edmonton, briefly stopped in Vancouver and then headed up to Whistler for the majority of the leg.
Teams had to complete challenges at the Squamish Lil'Wat Cultural Center, Bearfoot Bistro, top of the Whistler Gondola outside the Roundhouse and then take a ski jump into the Momentum Ski Camp pool. From there, the Teams received their final clue to find the 12th Hole at our golf course, where they would find Jon Montgomery (host) and the finish line.
"It was definitely competitive to win over the producers to choose Nicklaus North, but during two visits in the winter (one snowy, one rainy) I was able to convince them that (a) it would be sunny and (b) it would be a perfect spot to showcase the beauty of Whistler and the Whistler Valley as the views from #12 are AMAZING", said Mike Zuccolin, General Manager at Nicklaus North.
WATCH NOW: Click HERE to watch the finale
and other Amazing Race clips.
We know what made it into the final episode, but what about what happened behind the scenes? What was not shown on TV?
Gino and Jessie arrived at Nicklaus North about 10-11 minutes before Nick and Matt. They struggled to find out a way out to hole #12 but the staff we had on site was not allowed to answer any questions…only provide them a scorecard which has a map of the course!
Gino and Jessie actually ran to and from the Clubhouse THREE times…as they had no idea as to the direction of #12. They ran down #15 in reverse but stopped half way and came back to the patio, then ran down to #16 tee and stopped. Went back out front and came back inside... They finally located hole #1 and via the map on the scorecard made their way down #1 and #2 and then under the Sea to Sky Highway and ran down #13 to hole #12! Once on 13, you could see the other teams and "finish line". So all in all, it took them about 18-20 minutes to find #12.
Nick and Matt struggled as well... After finally finding their bearings they took the long way, by running down #15 and #14 to find hole #13. They finished about 12-14 minutes behind Gino and Jessie.
Brent and Sean as you know struggled at BC Place and were well behind; they finished approximately 2 hours after the Wrestlers.
Post-race interviews went on for almost 5 hours on hole #11.
The Chevy Colorados were waxed and buffed literally 30 times!
They had a little party at the Clubhouse after the race finish.
The Amazing Race Canada FACTS:
#1 watched TV series in Canada!
Watched by almost 3,000,000 people weekly
Will be re-aired plenty of times over coming weeks