Posted on
30th September, 2015
Source: Arbutus Ridge Golf Club
A season of record high results! Arbutus Ridge shares their 2015 statistics and why this it matters.
55% increase in lesson/practice ball revenue compared to 2014
61 new members in 2015
49% increase in Junior Night participation, 25% increase for golf & tennis camps
30% increase in Ladies Night participation
4.3/5 Annual Member Survey rating (record high)
64, 2015 projects included in an ambitions annual Golf Course Master Plan
35 new Members in the last three years in the Intermediate (19-39) age category
4.2/5 Team Member Survey rating (record high)
4.5/5 rating on trip advisor
Along with record-breaking highs in almost all categories,
Arbutus Ridge
has seen an increase in use of the
Quick Tees
that shorten the course to 3000 yards. Updating the strategic plan annually is a key part of their growing success.
Triple bottom line approach includes over $12,000 in contributions to charity/community causes and completion of the final stage of the Audubon Environmental Certification process in 2015.
Strategically, the team at Arbutus Ridge focuses on some key research/principles to guide some of their efforts.
1) #1 reason for golfer satisfaction is ball striking - "you can't expect people to pay money to be frustrated", taking quality lessons and practicing is key
2) if we don't get people age 19-39 golfing more regularly now, most will simply not play when they get older
3) people golf mainly for the social element and to simply be outside getting some exercise
4) junior participation and not just access to the golf course is essential
5) participation from females simply needs to improve and is a large opportunity
6) a happy, inspired accountable team is paramount
7) a focused balanced business approach (triple bottom line, etc) will help provide a long term sustainable competitive advantage
Thank you to the fabulous TEAM, MEMBERS, GUESTS, OWNERS for the support and valuable contributions!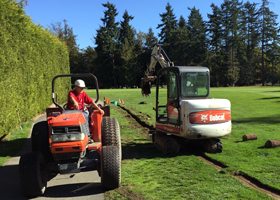 After completing recent drainage projects on hole #8 and #12 the team has set their sights on #14 (see photo) which will be complete by mid-October. Cheers to continuous improvement and making 2016 the best year yet!