Posted on
30th October, 2015
Source: GolfBC Group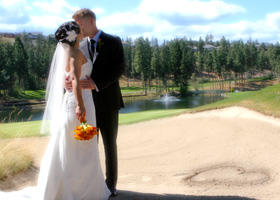 A new and improved wedding ceremony site is coming to The Okanagan Club! As of Spring 2016, bride and groom will say their 'I do's' under a beautiful lakeside timber trellis, surrounded by pristine gardens. With move-able seating, this site will the be perfect spot for weddings big or small. View the site plan for a 'sneak peek' at the ceremony site to-be.
With the lush 18th hole green and the serene lake, complete with a fountain and wooden bridge, as your backdrop, this is the perfect spot to begin your happily ever after.
Visit our Weddings page for information, photos, menu options and much more!