Posted on
28th January, 2016
Source: Eric Gilchrist, Executive Chef - Whistler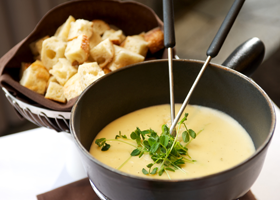 Cheese fondue is traditionally served in the Swiss Alps for après ski or dinner during the cold winter months. Fondue generally consists of a blend of three Cheeses, cave aged Gruyere, Emmenthal and the third cheese usually being somewhat regional to the area it is being served. Whistler's
Table Nineteen
at Nicklaus North and
Basalt Wine and Salumeria
(après only; in the Crystal Lodge) proudly stand behind this tradition and use a regionally sourced aged white cheddar as the third cheese.
150 grams aged white cheddar grated
150 grams gruyere grated
150 grams Emmenthal grated
½ liter dry white wine
1 clove of chopped garlic
Salt and fresh cracked pepper
2 tbsp corn starch mixed with 1 oz kirsch
1 loaf fresh country bread of baguette
Rub a fondue pot with the garlic and add wine, bring to a boil over medium heat (the wine may catch on fire so do not leave unattended), gradually add the cheese and stir constantly until it melts, add kirsch and corn starch and stir until thick enough to coat a spoon. Season with salt and pepper (optional nutmeg).
Serve with crusty country bread for dipping (and a hopefully a bottle of dry white wine or kirsch). A Gueta!
serves 4 people