Posted on
1st May, 2016
Source: Brad Ziemer, Guest Contributor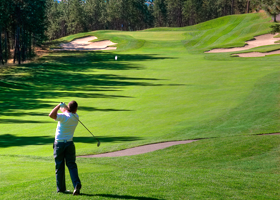 We keep hearing that the golf ball has never travelled farther and I guess that's true. You only have to tune into the PGA Tour telecasts each week to see how long some of these guys are hitting it. Jason Day, Rory McIlroy, Bubba Watson and company are routinely busting drives 350 yards or longer.
Not me. Not even close.
Not so long ago, I could occasionally pure one off the tee and try to reach a par 5 in two. Not anymore and that's why I am starting to play it forward. Those black and blue tees beat me up. The whites are my friend. And please don't spread this around, but I have even been known to venture onto the reds. Apparently, I am not alone.
At the recent annual general meeting of British Columbia Golf, there was a discussion on ways to make the game more sustainable. Larry Gilhuly, the longtime western agronomist with the United States Golf Association, was a featured speaker and he talked about the need to make courses more welcoming to average players. "If we want to be sustainable as an industry, don't make these things (courses) longer," he said. "Shorten them up. We have to. And I mean a lot.
"We need to focus on fun, family and friends," added Gilhuly, who also mentioned green speeds as being a culprit. "Unfortunately, courses have been taken over mentally by single digits (handicaps)," Gilhuly said. "The average male player in the U.S. has a handicap index of 14.5, and ladies are 28.9. I'm sorry, but 28.9 players should not be playing on greens that have 11 feet of speed. It hurts the game. It is not sustainable."
Gilhuly also said older guys -- guys like me -- are finally getting it and discovering that the game is more enjoyable if you choose a tee that is suitable for your ability.
"It's not a gender issue any more," he said. "Older guys finally are getting over their ego problems and playing tees that are suitable for their distance." The fact is the forward tees at many courses aren't short enough. Gilhuly noted that the average woman hits the ball about 75 per cent as far as the average man. "So a 5,400-yard forward tee plays a comparable distance of 7,200 yards for men. Any guys want to play 7,200 all the time? Hit your third shot into a par 4 with a long iron? That's fun."
Gilhuly also suggested that tee colour is important when it comes to convincing players to pick a tee that fits their ability. Many players -- in other words, guys -- refuse to play red tees. To counter this, many courses have switched to yellow or green for their forward tees. "Any colour but red on the forward tees," Gilhuly said. "Reds are gone at most clubs."
A course in Wyoming had some fun recently when it decided to make its back tees pink and its forward markers black. Unfortunately, the course did not keep it that way, but the point was made.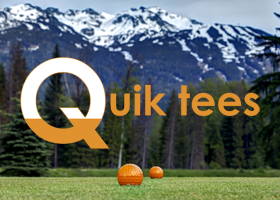 It should be noted that GolfBC has been ahead of the curve on this issue. Four years ago, it introduced
family-and-beginner-friendly 'Quik' tees
at many of its courses. They measure about 3,000 yards.
I don't know about you, but I don't play golf to torture myself. I am out there to have some fun with friends and it's funny, I have more fun when I am hitting short or mid-irons into a par 4 instead of a 3-wood.
Play it forward. Have more fun. Shoot lower scores. What a concept.
Article by Guest Contributor Brad Ziemer, as featured in the May 2016 edition of the GolfBC eNews.

Brad Ziemer covered the B.C. golf scene for the Vancouver Sun for nearly 25 years. He received Golf Canada's Distinguished Service Award in 2013 and was also named the PGA of British Columbia's Patron of the Year in 2013.