Posted on
30th May, 2016
Source: Brad Ziemer, Guest Contributor
Like a proud father, Peter Hopley can't wait to show off his baby.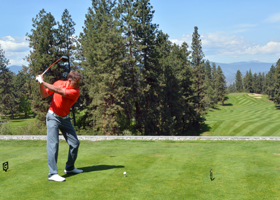 Hopley is the longtime general manager of Gallagher's Canyon, which is preparing to welcome the Mackenzie Tour-PGA Tour Canada circuit to the Okanagan for the inaugural playing of the $175,000
GolfBC Championship
. The tournament goes June 9-12 and Hopley and his staff have endured a hectic spring preparing for the event. They have loved every minute of it. Hopley acknowledges feeling both nervous and excited as the tournament approaches.
"This is huge for us on lots of different levels," Hopley says. "This has really re-energized the team to get things to a great level. It takes you out of your daily routine. There is an energy for sure in every department. It is awesome. We have had the Canadian Amateur, the B.C. Women's Amateur and we had the Canyon Classic for many years, but this for us will be the biggest event we have hosted here and it is exciting."
Gallagher's Canyon, of course, is no baby. She is 35 years old and something of a Kelowna classic. Hopley has worked at the course for the last 20 years. Course superintendent Frits Verkerk has been there for nearly 30 years. They and everyone else on staff want to put on a great show. And that show will include birdies. Lots of them and Hopley is okay with that.
"We want these players to come in and make some birdies," he says. "This is not an Open Championship."
Hopley, a fine player in his own right, knows how good the players are on the Mackenzie Tour. None of them are household names yet, but several soon will be. It is not a stretch to suggest that a few players who tee it up this month at Gallagher's will find their way to the PGA Tour in the next couple of years. So how will Gallagher's stand up to some of the world's best young pros? Hopley predicts the winning score will be between 15- and 18-under. Someone may even get to 20-under. After all, at 6,800 yards, Gallagher's is certainly not long by touring pro standards.
But Hopley notes the course does have it defences. The rough has been grown to an inch and three quarters. More importantly, it has been well fertilized, so it is as thick as it has been in years. And the course, normally a par 72, will instead play as a par 71, with the par 5 10th hole playing as a long par 4 during the tournament.
"The other thing is the elevated greens," Hopley says. "A lot of the greens are all carry to an elevated front. There are quite a few holes where you just can't run it up. You have to be on the number. You have to carry it a certain distance in the air. And the greens here are big with lots of undulation. You can really put pins in spots that don't give you much."
Residents of the Gallagher's community have rallied behind the event and many of them are serving as volunteers.
"A lot of our members are retired business people that now have this great platform to be involved and lend us their expertise," Hopley says.
Hopley knows the event will be great for Gallagher's burgeoning junior program. He and his staff, with lots of help from the membership, have made an effort to expand the club's junior program in recent years.
"We now have 165 juniors and five years ago we probably had 14 juniors," Hopley says. "We have really made a conscious effort to start a good program, selfishly because I have three young kids, so it is a big mandate of mine."
Hopley's 13-year-old son, Matt, will caddie in the tournament and has been selected to hit one of the ceremonial tee shots to officially open the event. Most of the hard work has been done. Now Hopley and his staff wait for the players to arrive, hope the weather cooperates and lots of Kelowna-area residents come out to watch.
"We really hope this community supports it and I believe it will," Hopley says. "We think it's going to be a great event."

Article by Guest Contributor Brad Ziemer, as featured in the June 2016 edition of the GolfBC eNews.

Brad Ziemer covered the B.C. golf scene for the Vancouver Sun for nearly 25 years. He received Golf Canada's Distinguished Service Award in 2013 and was also named the PGA of British Columbia's Patron of the Year in 2013.