Posted on
1st July, 2016
Source: Brad Ziemer, Guest Contributor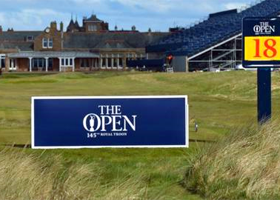 This month's Open Championship heads back to Royal Troon Golf Club, which brings back some wonderful memories for me.
Back in 2004, I had the privilege of covering the Open Championship - the locals don't like it if you call it the British Open - at Royal Troon for my newspaper's chain. After watching the tournament every July on television, it was a thrill to get to see one in person.
And as much as I enjoyed covering the event and getting an up-close look at Troon's famed Postage Stamp, the tricky 123-yard par 3 8th hole, it was the days before and after the tournament that I most cherish.
My youngest son, Ryan, accompanied me on the trip. He was 14 at the time and a keen junior golfer. We spent the week before the Open and a few days after driving around Scotland and playing some terrific courses.
We did not tee it up at any of the courses that are part of the Open Championship rota, but we discovered so many other good ones.
North Berwick, for example, is a delightfully quirky course located on the Firth of Forth on Scotland's east coast. There are stone walls to hit over, burns to avoid, fabulous views and some funky greens that will test and inevitably expose your short-game shortcomings.
We made the trip north of Aberdeen to play a course called Cruden Bay that remains one of my all-time favourites. Like North Berwick, it, too, had its eccentricities. There are a number of blind shots, including the tee shot on the par 3 15th hole, which was a first for me. Cruden Bay features massive sand dunes and I remember it being an absolute blast to play.
Once tournament week started, I had to get to work, but my son kept golfing. The town of Troon has more than Royal Troon when it comes to golf. Troon Links is a collection of three courses in the middle of town.
I dropped Ryan off at the course a couple of times early that week and he got to play some rounds with the locals as a single. I remember him telling me he had a heck of a time understanding some of his playing partners, but they treated him wonderfully and it was a great experience for him. After his round, he'd join me at Royal Troon to watch The Open.
Troon native Colin Montgomerie was the local favourite that week. Montgomerie had never won a major - and never did - and the locals did their best to cheer him on that week. One of the memories that have stuck with both my son and I are the cries of "Monty" that seemed to follow Montgomerie around the course even after it was clear he had no chance of winning that week.
The actual winner was a surprise. American Todd Hamilton, who had played most of his golf in Japan, ended up beating Ernie Els in a four-hole playoff. Hamilton, now on the Champions Tour, hasn't done much since. But on that Sunday in Scotland he was the 'champion golfer of the year' and proudly hugged the famed Claret Jug.
And who will win it this year? Well, it might be smart to bet on an American. This will be the ninth Open Championship at Royal Troon and the last six have been won by Americans.
Before Hamilton prevailed in 2004, Justin Leonard won in 1997, Mark Calcavecchia triumphed in 1989, Tom Watson topped the field in 1982, Tom Weiskopf won in 1973 and Arnold Palmer captured the second of his two Open Championship titles in 1962 at Royal Troon.
I am going to climb way out on a limb and make newly minted U.S. Open champion Dustin Johnson my pick.
Article by Guest Contributor Brad Ziemer, as featured in the July 2016 edition of the GolfBC eNews.

Brad Ziemer covered the B.C. golf scene for the Vancouver Sun for nearly 25 years. He received Golf Canada's Distinguished Service Award in 2013 and was also named the PGA of British Columbia's Patron of the Year in 2013.