Posted on
1st August, 2016
Source: Brad Ziemer, Guest Contributor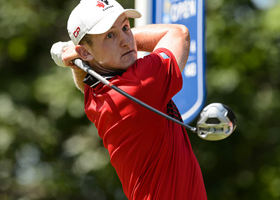 By now, most of you have heard of Jared du Toit.
But for those who have paid any kind of attention to the amateur golf scene in British Columbia, du Toit's impressive performance at the recent RBC Canadian Open was not a complete revelation.
One year ago, the Kimberley resident was winning the B.C. Amateur Championship in impressive fashion. He beat the field by seven shots at Fairview Mountain Golf Club in Oliver. Two years before that, du Toit won the B.C. Junior Boys' Championship at Revelstoke Golf Club.
So, yes, this now 21-year-old had already demonstrated considerable promise before his recent storybook performance at the RBC Canadian Open at Glen Abbey Golf Club in Oakville, Ont.
We should be getting used to seeing young British Columbia golfers shine on the big stage. Many will remember Abbotsford's Adam Hadwin following a similar script to du Toit at the 2011 Canadian Open at Shaughnessy Golf & Country Club in Vancouver, where he tied for fourth place.
Fellow Abbotsford resident Nick Taylor won on the PGA Tour in just his fourth start as a full-time member in November 2014. Last fall, Surrey's Adam Svensson won the
Web.com
Tour qualifying school and seems destined to soon join Taylor and Hadwin as a regular on the PGA Tour. North Vancouver's Eugene Wong and Justin Shin of Maple Ridge have had recent success on the PGA Tour China circuit.
All of these players are products of British Columbia's junior golf programs. And there seems little doubt that there are more of them on the way.
At last month's B.C. Amateur Championship at Pheasant Glen Golf Resort in Qualicum Beach, for example, 15-year-old Nolan Thoroughgood of Victoria became the youngest winner in the rich 114-year history of the B.C. Amateur.
There are also a large number of young British Columbia women who show considerable promise. Delta's Mary Parsons has had a super summer, including a win at the recent B.C. Junior Girls Championship at Big Sky Golf Club in Pemberton. Victoria's Naomi Ko made the cut as an amateur in the LPGA's Cambia Portland classic in Oregon last month and a week after that played in the U.S. Women's Open along with Surrey's Taylor Kim, a former B.C. Women's Amateur champion who recently turned pro.
I could go on, but you get the picture. British Columbia is blessed with an impressive collection of really good young golfers.
What often doesn't't get mentioned about these young folks is the fact they are also good people. There is something about golf that seems to bring out the best in so many people.
Du Toit's performance at the Canadian Open was impressive not only for his play, but the way he conducted himself on the golf course. You can only imagine the pressure this kid felt. He was being cheered on by huge galleries the entire way around the golf course and played the last couple of rounds with the weight of his nation on his shoulders. When I watched him prepare to hit his opening tee shot in Sunday's final round, I wondered how he'd even make contact.
But he did and played extraordinarily well given the circumstances. He smiled his way around the entire course, exchanging fist-pumps with fans. He handled any adversity he faced on the course with considerable class and demonstrated such poise. I will remember that as much as his impressive top-10 finish.
Article by Guest Contributor Brad Ziemer, as featured in the August 2016 edition of the GolfBC eNews.

Brad Ziemer covered the B.C. golf scene for the Vancouver Sun for nearly 25 years. He received Golf Canada's Distinguished Service Award in 2013 and was also named the PGA of British Columbia's Patron of the Year in 2013.