Posted on
3rd January, 2017
Source: Website
2016 was an exciting year throughout all our GolfBC courses. From freshly completed course improvement projects, to brand new championship events and charity initiatives, dull moments were few and far between
Beautiful spring weather got the season off to a great start, with all of our seasonal courses opening early and in great conditions.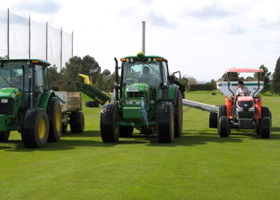 In fact, 2016 saw some of the best course conditions yet thanks to some major grounds maintenance projects. Mayfair Lakes finished installing their new drainage system bringing dryer fairways all season long, while the greens on front 9 holes of The Bear Course at the Okanagan Club were resodded just in time for peak season. Olympic View's grounds maintenance team was also busy as they completed the final phase to increase irrigation capacity and are now self sufficient with irrigation water!
Wailea Golf Club in Maui had a great year, introducing a new restaurant and golf academy. Wailea Kitchen and Tap opened mid-December featuring an assortment of local favourites and family-friendly dishes; Executive Chef Judah Secunda's buffalo shrimp and Asian chicken wings have already developed a following! After the Wailea Golf Academy's successful first year, PGA professionals Eddie Lee and Renee Lee are eager about another season of helping golfers achieve their potential.
All of GolfBC's in-house tournaments continued to see huge success, including the annual inventory blowout tournaments and our media appreciation event, the Media Cup (held at Furry Creek and Nicklaus North). 2016 also saw some major events come our way. Arbutus Ridge had the honour of hosting the 2016 BC Junior Boys Championship where one of their very own juniors took first place, and the 2016 PGA of BC Tournament of Champions was proudly held at The Okanagan Golf Club. GolfBC was also the title sponsor of the Okanagan's first Mackenzie Tour - PGA TOUR Canada event, the GolfBC Championship.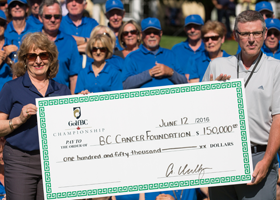 The inaugural GolfBC Championship took place June 6 - 12 at Gallagher's Canyon. With the help of sponsors, players, volunteers and the community, the event raised a total of $150,000 for the tournament's main charitable beneficiary, the BC Cancer Foundation. With the first year behind us, we are excited to see what next year's event will bring!
Some other noteworthy charitable donations include Olympic View's "Battle of the Elements" tournament, which raised $7000 for the TLC Fund for Kids- its largest donation to date- and their "Golf Fore the Cure" tournament which raised $5,274 for Breast Cancer Support and Services. Last not but least, team members across GolfBC continued to participate in the PGA of BC Golf-a-thon for ALS.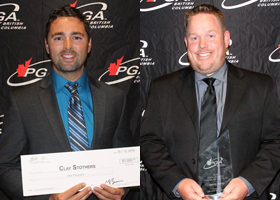 In 2016, both our courses and individuals had plenty to celebrate. GolfBC was well represented at the 2016 PGA of BC Awards: Gordy Scutt's (Olympic View) impressive tournament season, including a first place finish at the PGA of BC Championship, earned him the title of PGA of BC's Player of the Year; Clay Stother's (The Okanagan Club) efforts to grow the junior program and coordinate high school participation programs earned him the PGA of BC Forestar Golf Community Leadership Bursary; and Jason Jurimae (Gallagher's Canyon) was the regional recipient of the PGA of BC Candidate for Membership of the Year award. For the second year in a row, Olympic View was voted Best Golf Course in "the Best of the Westshore Awards" and their Restaurant, Forester's, attained the ultimate "GREEN" level certification from the Vancouver Island Green Business Certification. Two GolfBC courses were recognized on Score Golf's 2016 Top 100: newly ranked Gallagher's Canyon sat in the 49th spot and Nicklaus North was listed 52nd.
All in all, 2016 saw many changes and brought much success to our courses and their teams. Thank you for another great season and we are excited to see what 2017 has in store. Happy New Year and warm wishes for a long and successful 2017 golf season - we look forward to seeing you back out on the course!