Posted on
18th June, 2017
Source: GolfBC Championship Website
Kelowna, B.C. – The GolfBC Group is pleased to announce that a total of $150,000 was raised for charity at the GolfBC Championship at Gallagher's Canyon Golf & Country Club during event week of June 12-18, 2017.
With the help of generous donors and a significant contribution by the Chan Family Foundation, the Mackenzie Tour – PGA TOUR Canada event raised $150,000 which was awarded to the tournament's designated charity, the BC Cancer Foundation and the Red Cross Kelowna flood relief.
"We are absolutely thrilled with the volunteers, corporate sponsors, and golf fans in Kelowna and the entire Okanagan Valley. We are especially proud of the tremendous contribution to our chosen charities. The second annual GolfBC Championship is in the books as a success and the tournament continues to grow as one of the best on the Mackenzie Tour," said Tournament Director Hugh Vassos.
"Philanthropy is a large focus for our companies, and with last year's $150,000 donation, we are proud to be one of the most charitable events on the Mackenzie Tour. On behalf of GolfBC and the Chan Family Foundation it is our honour to be awarding these cheques today to the BC Cancer Foundation and Red Cross Kelowna flood relief. I hope we can continue to build on this in the years ahead," said Andy Hedley, Vice President of Golf Operations for GolfBC Group.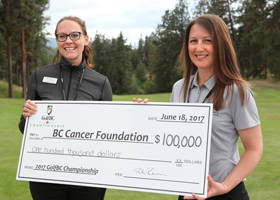 "It means so much to see participants, sponsors and the community rally around the BC Cancer Foundation to advance cancer care in our community. The impact on patients is significant. It's this kind of philanthropy getting together with research that is making a difference for cancer patients today," said Cynthia Waldek-Peters, Director of Development,
BC Cancer Foundation
.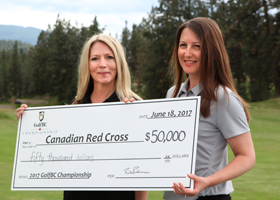 "It's great to see players this week shooting low but aiming high to help people impacted by record high spring flooding in Kelowna. The Canadian Red Cross is grateful for the generosity of the Chan Family Foundation, GolfBC Championship, and all its volunteers, sponsors and fans. Donations like this enable Red Cross to provide direct financial assistance and essentials such as food, cots, blankets and clean-up kits to vulnerable families and community individuals who need it most," said Kimberley Nemrava,
Canadian Red Cross
Vice-President B.C. & Yukon
"The goal of every Mackenzie Tour event is to create a positive impact in the communities where we play, and thanks to the hard work of the GolfBC Group, GolfBC Championship volunteers and Gallagher's Canyon Golf and Country Club along with the generosity of the Chan Family, this donation will ensure the event makes a difference in people's lives," said Mackenzie Tour President Jeff Monday. "This is a tremendous accomplishment for the event's first year, and we look forward to making an even greater impact for years to come."