Posted on
1st July, 2017
Source: Brad Ziemer, GolfBC Championship Correspondent
Just like that, the year is half over -- Happy 150th Canada, by the way -- and so far 2017 has been a good year for Canadian golf. And you know what, I think it's going to get even better. Here are a few reasons why:
Adam Hadwin
After shooting a 59 at the Career Builder Challenge in La Quinta, Calif., in January, the Abbotsford pro had a breakthrough win at the PGA Tour's Valspar Championship in March. He seldom misses a cut these days and will play in all four majors this year. He tied for 36th at the Masters and tied for 60th at the U.S. Open. Hadwin will tee it up in his first Open Championship later this month at Royal Birkdale and also has a spot in next month's PGA Championship at Quail Hollow in Charlotte, N.C.
Hadwin still has lots to play for. He will have an opportunity to go deep into the FedEx Cup playoffs later this summer and is highly motivated to make the International Team at this fall's Presidents Cup. Hadwin is just outside the top 10 in the International team standings and ideally would like to move up to make himself a lock. If he can't do that, he wants to be playing well enough to make it tough for International captain Nick Price not to make him a captain's pick.
Personally -- he got married in March -- and professionally, Hadwin is in a good place. He is now Canada's top-ranked male golfer and I think he is only getting started.
Brooke Henderson
By her standards, Henderson was having an indifferent start to 2017 until she won the Meijer LPGA Classic a couple of weeks ago in Grand Rapids, Mich. Don't be surprised if that win doesn't kickstart Henderson's season and results in a stellar second half of 2017. In a recent conference call with Canadian golf writers, Henderson acknowledged she had been disappointed with her results before her recent win and expects big things this summer.
"I feel this was a breakthrough week for me, it is kind of a turning point in my season," she said. "Just the confidence and feeling of being able to hoist a trophy again is unexplainable and it is such a great feeling to do it on Sunday. I kind of reminded myself that I do belong here and can contend on the LPGA Tour and get back to some of my bigger goals knowing I am able to do it."
And remember, she's still only 19 years old.
Jared du Toit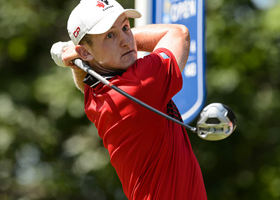 Just two events into his new professional career, the 22-year-old Kimberley native has already shown us some of the promise we witnessed when he finished in the top 10 at last summer's RBC Canadian Open.
At the recent GolfBC Championship on the Mackenzie Tour-PGA Tour Canada circuit, du Toit scorched Gallagher's Canyon Golf & Country Club in Kelowna with a course record round of 10-under par 61 in the third round. That came a day after the recent Arizona State University graduate had to birdie three of his final six holes -- including the last one -- just to make the cut.
Du Toit is a player to watch the remainder of this year as he begins a professional journey that seems filled with promise.
Best of the Rest
A solid season by Abbotsford's Nick Taylor has been overshadowed by Hadwin's terrific play. Taylor has already secured his PGA Tour playing privileges for 2018 and has been a much more consistent player this year. He and Hadwin -- both Ledgeview Golf Club products -- have been competing against one another for years. Don't think for a minute that Taylor has not been motivated by Hadwin's success this year.
After a sluggish start to his PGA Tour season, David Hearn of Brampton, Ont., ended June with back-to-back top 10s, and fellow Ontario native Mackenzie Hughes is enjoying a terrific rookie season on PGA Tour.
Anne-Catherine Tanguay of Quebec City currently sits sixth on the Symetra Tour money list. The top 10 at year's end earn LPGA Tour status for 2018.
Merritt's Roger Sloan and Adam Svensson of Surrey are both currently outside the top 25 on the Web.com Tour money list, but both will have an opportunity to play their way onto the PGA Tour in the playoffs later this summer.
I could go on but you get the picture. Canadian golf looks as promising as it has in the last, well, 150 years.
Article by Guest Contributor Brad Ziemer, as featured in the July 2017 edition of the GolfBC eNews.

Brad Ziemer covered the B.C. golf scene for the Vancouver Sun for nearly 25 years. He received Golf Canada's Distinguished Service Award in 2013 and was also named the PGA of British Columbia's Patron of the Year in 2013.