Posted on
12th June, 2017
Source: Brad Ziemer, GolfBC Championship Correspondent
Go low or go home. That message was sent rather emphatically to those attempting to Monday qualify their way into this week's GolfBC Championship.
American Daniel Stringfellow, playing in the first group of the day, scorched The Bear Course at Okanagan Golf Club with course-record nine-under 63 to set the tone for the day.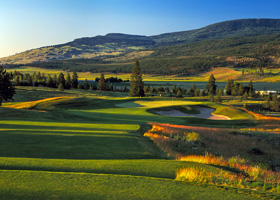 No one matched Stringfellow's round, but many came close. There were lots of low scores as players trying to gain entry into the $175,000 Mackenzie Tour-PGA Tour Canada event this week at Gallagher's Canyon Golf & Country Club went on a birdie binge.
When the last of the 138 competitors completed their rounds it took a score of 66 or better to finish in the top 10 and earn a spot in the GolfBC Championship field. And the eight guys who shot 66 had to play extra holes to see who got the final seven spots.
The low scores were in stark contrast to what happened at last year's qualifier for the inaugural GolfBC Championship. That qualifier was played at The Bear's sister course, The Quail, in extremely hot conditions. Only five players shot rounds in the 60s. There were 40 rounds in the 60s Monday at The Bear.
"I can tell you the Bear Course is ultimately a more forgiving golf course," said Okanagan Golf Club general manager Dan Matheson. "There is a little bit more room out there and with today's modern technology, at 6,800 yards, that is not long enough from keeping these boys from reaching the par 5s in two and even some of the short par 4s in one. Still, it's a great test. When Jack (Nicklaus) was here years ago he played from similar tees and shot 71. But this puts it into perspective how good everyone is."
Stringfellow, who graduated from Auburn University in Alabama two years ago, was among those who feasted on the par 5s at The Bear.
"I birdied all four of them and on three of them I had 20-footers for eagle and just two-putted them," he said. "And on the last one I laid up and made a 10-footer."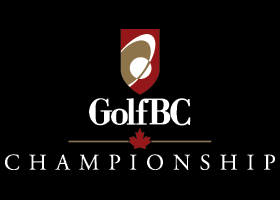 Stringfellow has conditional status on the Mackenzie Tour this season. He drew into the season-opening Freedom 55 Financial Open at Point Grey Golf & Country Club in Vancouver two weeks ago and tied for 45th place. He attempted to Monday qualify last week in Victoria, but missed by two shots.
"It's just nice to know I am in the tournament and I can prepare and get ready for that now," said Stringfellow, who is staying with a host family at Gallagher's Canyon.
By making some more money this week, he can improve his Mackenzie Tour status when the first reshuffle is held after the fourth event in Winnipeg.
Not long after Stringfellow posted his 63, Corey Pereira recorded his round of 64. Pereira, a recent University of Washington graduate, just turned pro last month and was ecstatic about earning his first Mackenzie Tour start. Like Stringfellow, he has conditional status on tour.
"It was fun out there," said Pereira, who hails from Cameron Park, Calif. "I was five-under after nine and I knew I had to keep it going. I had to keep my foot on the gas because I just knew conditions were pretty easy. But I handled it great. I played bogey-free. I am happy."
Summerland's Greg Machtaler, a former winner on the Mackenzie Tour, was not happy after he finished his round of two-under 70. He could not believe how low the scores were.
"It makes me not miss playing golf for a living," said Machtaler, who now teaches at Summerland Golf Club. "It is going to take 66 or 67 to make it. I thought four-under would for sure make it. The greens were firm and fast and the course is narrow in spots. It is pretty crazy. It is amazing how good some of these guys are."
Dale Smith of Coronada, Calif., matched Pereira's 64 in the afternoon side of the draw.
Other players who earned spots in this week's field included Joseph Cooper of Irvine, Calif., Kevin Aylwin of New Smyma Beach, Fla., Andrew Ledger of Toronto, Jess Smith of Dover, N.H., Damian Telles of The Dalles, Ore., Ryan Books of East Wenatchee, Wash., and Andrew Funk of Edmonton. All seven players shot 66. So did the unlucky Aaron Crawford of Calgary, who was the odd man out in the playoff.
Ledger, who played his college golf at the University of B.C. has now Monday qualified his way into the first three Mackenzie Tour events of the season.
By Brad Ziemer