Posted on
13th June, 2017
Source: Brad Ziemer, GolfBC Championship Correspondent
Canada's best amateur golfer is now a pro and Jared du Toit will tell you that feels a little different.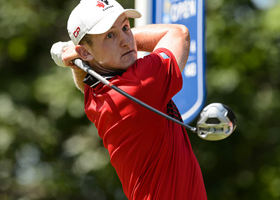 "It's my job now," says du Toit, the 22-year-old Kimberley native who made his pro debut last week in Victoria and is in the field for this week's $175,000 GolfBC Championship at Gallagher's Canyon Golf & Country Club.
"As an amateur playing in a pro event it is pretty much like playing in an amateur event in the sense you are not going to make any money. So it is a different feel now, but with the same kind of expectations.
"Last week, there was as little bit of hype and build-up for it so there's was a little bit of added pressure there as well. At the end of the day it is still about golfing the ball and I have to remember that."
Du Toit's made the cut in his pro debut at the Bayview Place Cardtronics Open at Uplands Golf Club. The only disappointing part of the week was his finish on Sunday, when a three-over 75 dropped from eighth place to 29th.
Despite that stumble on Sunday, du Toit says he is taking lots of positives from that event into this week's GolfBC Championship.
"Sunday did suck a little bit," he said. "I was definitely a little disappointed with the way I finished, especially after fighting pretty good for three days. But without my best stuff I was still in the mix and that was nice. Sunday threw it a way a bit, but I felt happy to make the cut in my first event and to be in the mix after three days in your first pro event is also pretty cool as well. So there were lots of positives for sure and hopefully I can kind of bounce back this week and do something a little better."
Du Toit, who has his younger brother Russell on his bag as caddie, will spend the next couple of days getting familiar with Gallagher's Canyon, a course he had not played until this week.
Du Toit won the 2015 B.C. Amateur championship at Fairview Mountain in Oliver and recently concluded his collegiate career at Arizona State University. His teammates there included Spain's Jon Rahm, now one of the rising stars on the PGA Tour, and Germany's Max Rottluff, who won last week's Mackenzie Tour-PGA Tour Canada event in Victoria.
Du Toit gained national prominence last summer when he finished tied for ninth at the RBC Canadian Open at Glen Abbey Golf Club in Oakville, Ont. That event did more than put du Toit on the radar of Canadian sports fans. It reinforced his belief that he has the game to succeed at the pro level.
"Obviously that is the highlight of my golf career so far," he said. "I have learned a lot from that. I think that experience kind of made it real, gave me more confidence and just just made it feel that much more do-able. The coaching staff at Golf Canada have kind of expressed this for two years now — that good golf gets it done anywhere. If you can kind of focus on your own game and you do well at your own game and really understand your own game there's a future for you and very probable success in your career.
"And I think that moment was a very pivotal point for me. I went into that week just hoping to make the cut and obviously playing well exceeded my expectations and like I said, made it a lot more real."
Du Toit is appreciative of the sponsor's exemption he has received to play this week at Gallagher's Canyon.
"I feel very fortunate to get the start and I am looking forward to delivering on the sponsor exemption."
Du Toit has also received an exemption into the next Mackenzie Tour event in Winnipeg.
"I know there is a reshuffle after four events and hopefully I can earn my way into that reshuffle and play the remainder of the season," he said.
Du Toit does have one other confirmed event on his schedule. He has been invited back to play in next month's Canadian Open, where last year he finished just three strokes behind winner Jhonattan Vegas.
"Can't wait for that one," he said.
By Brad Ziemer