Posted on
14th June, 2017
Source: Brad Ziemer, GolfBC Championship Correspondent
They are student and teacher and this week both will be writing the same exam.
This test does not have any true or false questions. Instead, it is fraught with obstacles like tight, tree-lined fairways and firm and fast greens. Grades will not be A's and B's, but birdies and bogeys. Chris Trunzer is the teacher, Matt Hopley the student and both are playing in this week's $175,000 GolfBC Championship at Gallagher's Canyon Golf & Country Club.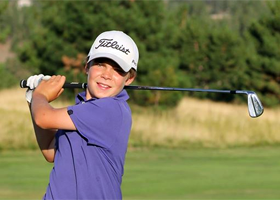 Hopley, who turned 15 on Wednesday, will become the youngest player to tee it up in a PGA Tour Canada-Mackenzie Tour event. Trunzer, a 33-year-old native of Germany who is the director of instruction at Gallagher's Canyon, has been his teacher for the past year.
Hopley earned his sponsors' exemption through the local junior circuit and thinks his intimate knowledge of Gallagher's Canyon will help him this week as he steps way up in class. He has what he likes to think is a serious case of home course advantage.
"I have probably played here close to a thousand times," Hopley said. "I feel like I know this course very well, probably better than anyone else out here. I play it almost every day."
Hopley and Trunzer played a practice round together on Wednesday. Trunzer's message to Hopley has been to just focus on his own game and not worry if the guy he is playing with is hitting a two-iron and he is hitting a driver.
"We have been working a lot on his emotional control after a shot," Trunzer said. "He is more refined than most out here in terms of technique and knowledge and skills. The question is if he is internally strong enough to process what is happening for him at this tournament. I see today that he is double-checking things. He already asked me a couple of questions on the first two holes and I said, how many times have you played this hole? "But I think he is ready. I think he has a good chance of making the cut as long as he stays focused after the shot and just doesn't really get down on himself."
Hopley is the second teenager to tee it up in as many weeks on the Mackenzie Tour. B.C. Amateur champion Nolan Thoroughgood of Victoria played last week's event at Uplands Golf Club in Victoria. The 16-year-old Thoroughgood missed the cut by three shots.
Hopley finished tied for second at last week's B.C. Single A High School Championships at Christina Lake Golf Course. He closed with a four-under 68 that included two eagles in leading his school, Immaculata, to the team title. "I am so excited," he said between holes of his practice round Wednesday. "It is such a great opportunity to come and play with some of the best young pros. I think it is really going to improve my game and I'm going to get so much better just from playing with them."
Hopley insists he is more excited than nervous, but knows there will be butterflies when he tees off in the final group at 2:25 p.m. in Thursday's first round. "For sure, it is going to be mental challenge, getting used to playing with these boys and people watching," he said. "But it is only going to help me. I think I will improve so much through this experience.
Hopley lives at Gallagher's Canyon, where his father Peter is general manager of the golf course. He first hit the range as a three-year-old and before long was hooked on the game. One of Hopley's most memorable rounds came two years ago when he was still only 12 years old and he broke 70 for the first time.
"I made a 12-foot downhill slider on 18 to shoot 69," he said. "I still remember that. It was cool." He thinks his game is in good shape as heads into the tournament, which is the third stop on the Mackenzie Tour schedule. "I am very happy with where my game is right now. I came out here the other day and shot four-under on the front nine from the back tees, so I am really happy and excited about where my game is going into this week."
Hopley has also added some length to his game that should help him this week. "I am playing it a lot more from the back tees this year," he said. "I have been working a lot this year with Chris and length is really coming. I don't think length will be a big factor."
Trunzer agrees. "Over the winter we added 30 yards to his drives," Trunzer said. "He is hitting it 265 in the air right now. He can handle playing with these guys." While trying to get Hopley prepared for the biggest event of his young life, Trunzer has also been working hard on his own game. He earned his exemption by beating other pros from GolfBC facilities in a recent tournament. Trunzer was a regular on the Mackenzie Tour in 2015 and finished fourth at an event in Fort McMurray, Alta.
"I feeling really good," Trunzer said. "Now that I am coaching so much I understand things a little bit better and can apply them easier. I have been playing great, hitting the ball the best I ever have. I am practising less, but I am practising smarter. I feel really ready."
By Brad Ziemer