Posted on
14th June, 2017
Source: Brad Ziemer, GolfBC Championship Correspondent
Nicholas Kennedy doesn't exactly fit the mold of a long-drive champion.
He's about six feet tall and 170 pounds soaking wet.
"I am probably the skinniest guy here," he said.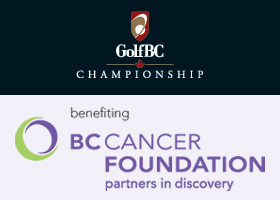 Thompson, a teaching pro at Golftec in Kelowna, proved it's more about the swing than size when he won the long-drive contest Wednesday afternoon that officially kicked off the GolfBC Championship at Gallagher's Canyon Golf & Country Club.
The contest was a fundraiser for the B.C. Cancer Foundation and contestants paid $20 for the privilege of hitting three balls off the back tee deck of Gallagher's first hole.
Anyone who has played the Kelowna course knows the first tee as one of best — and most intimidating — stages in British Columbia golf. The elevated tee box sits directly below the clubhouse patio and offers great views of the valley below.
The contestants, which included six Mackenzie Tour-PGA Tour Canada pros, also discovered the first fairway is narrow. Drives didn't count unless they ended up in the short grass and that proved to be a problem for many contestants.
After a couple of contestants from Oliver pulled their drives into the second fairway, master of ceremonies Dan Matheson cracked: "Are there a lot of dogleg lefts in Oliver?"
Thompson, one of the last contestants to hit balls, smacked his third one 367 yards to win the competition.
It was his first entry into a long-drive competition.
"I had no number in mind, I just know I have hit lots of drives over 400 yards," Thompson said. "I knew if I could catch one I'd be pretty close."
The 22-year-old graduated last year from Carson-Newman University in Tennessee on a golf scholarship and moved to Kelowna last spring.
"I know I can hit it pretty far. I tried to Monday qualify for the tournament but I missed by a couple of shots. I shot 69. I know I can hit pretty far and I have been looking forward to doing this."
After he posted his 367 number, Thompson had to watch former two-time world long drive champion Jamie Sadlowski from St. Albert, Alta., try to beat him. Sadlowski came close, launching a couple over 350 yards, but could not beat Thompson.
Christian Chan, executive vice president of the Burrard Group — GolfBC's parent company — was among the many amateur contestants.
"I think I should take credit for that one, I gave Christian lessons when he was five years old," Matheson, general manager of the Okanagan Golf Club, said after one of Chan's drives cracked the 300-yard mark.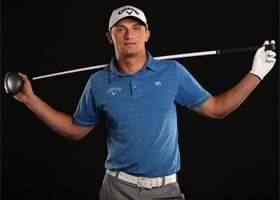 Sadlowski, who won back-to-back world long drive championships in 2008 and 2009, is more focused on regular tournament golf these days. He has a spot in the field at this week's Mackenzie Tour event and figures he will only use his driver three or four times a round at Gallagher's Canyon.
"Obviously you have to hit it and find it, so it's been a change," he said. "It's a work in progress but it has been getting better every tournament I get to play under pressure and get those competitive reps.
"Gallagher's Canyon is a golf course where you have to put yourself in position off the tee. I am still going to play pretty aggressive. There are places to hit it and places where you can't. There are probably three or four drivers for me out here, which is about what I'd hit on any golf course unless you find one that is more of a bomber's paradise."
The 72-hole tournament starts Thursday with a field of 156 players. The field will be cut to the low 60 and ties after Friday's second round.
By Brad Ziemer