Posted on
1st August, 2017
Source: Brad Ziemer, Guest Contributor
Some random golfing thoughts as we officially enter the dog days of summer:
If you are waiting for the RBC Canadian Open to return to the west coast, don't hold your breath.
It looks like Glen Abbey's days are numbered as the course is likely to be developed for housing in the not-too-distant future. But don't think that might mean the Open will return to Vancouver on any kind of semi-regular basis. New Golf Canada CEO Laurence Applebaum went on the record during the Open that he favours finding a permanent site for the tournament in the Greater Toronto area. That's where the corporate money is and that's where Golf Canada turns the biggest profit. And that's a shame.
I have always been a proponent of moving our national Open around the country. Shaughnessy Golf & Country Club in Vancouver certainly showed well when it played host to the event in 2005 and 2011. The players loved it, but the fact is Golf Canada incurred a small deficit each year the tournament was held in Vancouver. And as we all know, in the world of professional sports money talks.
SWEET AND SOUR: Abbotsford's Adam Hadwin can be hard on himself, so here's hoping he doesn't let this sour stretch he is currently enduring spoil what has been a splendid year.
After making 15 straight cuts, during which he shot a 59 at the CareerBuilder Challenge in mid-January and then won for the first time on the PGA Tour at the Valspar Championship in March, Hadwin has had the weekend off in four of his last six starts. That included a missed cut at the RBC Canadian Open, which Hadwin and the other Canadian regulars on tour treat as their fifth major.
Despite his recent stumbles, Hadwin remains in a great position to make a run in the PGA Tour's lucrative FedEx Cup playoffs, which begin later this month. And he also has a terrific opportunity to play his way onto the International team for this fall's Presidents Cup.
Almost all the players on the PGA Tour have peaks and valleys during the season. I expect Hadwin will climb out of this one and regain the fine form he displayed earlier this year.
SO CLOSE: You couldn't help but feel for North Vancouver's Bryn Parry, who birdied his last hole but missed the cut by a single shot at the Canadian Open. Parry, a teaching pro at Point Grey Golf & Country Club in Vancouver, has long been one of B.C.'s top club pros. He received an exemption into the Canadian Open via his ranking on the PGA of Canada points list. Had he made the cut Parry would have been guaranteed a pay cheque of at least $12,000 US with the opportunity to make a whole lot more than that on the weekend. Instead he returned home wondering what might have been.
CLASS ACT: One of the privileges of covering golf in B.C. for the past quarter-century or so has been getting to know Doug Roxburgh. And, of course, watching him play.
The word legend gets thrown around way too much, but with Roxburgh it fits. His record as an amateur the last 50 years or so is truly remarkable. And it appears he's not done yet.
I was in Powell River recently for the B.C. Senior Men's Championship, where Roxburgh, now 65, won that title for the third time. A week earlier Roxburgh made the cut in his 51st B.C. Amateur Championship, a tournament he has won 13 times. He's also won four Canadian Amateur crowns, a Canadian Senior championship and countless other events.
And he's so much more than a great golfer. He also happens to be one of the nicest people you will will ever meet.
SLAM SPOILER: And finally, the season's last major, the PGA Championship, is fast approaching. For me, that always brings with it a tinge of sadness as it signals the end of summer is fast approaching.
The big storyline heading into the tournament figures to be the fact that Jordan Spieth will be attempting to complete the career Grand Slam just a couple of weeks after celebrating his 24th birthday.
I'd love to see him do it, but I am picking Rory McIlroy.
This year's PGA Championship is being held at Quail Hollow in Charlotte, N.C. The course is normally the site of the Wells Fargo Championship each May. McIlroy, whose game showed some signs of life at last month's Open Championship at Royal Birkdale, has won the Wells Fargo tourney twice. I'm saying he completes the Quail Hollow hat trick at the PGA.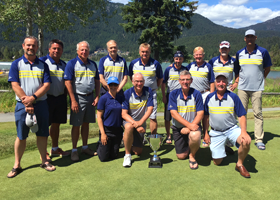 EDITOR'S NOTE:
Congratulations to Brad Ziemer, who as captain, led the Team Journalists to another successful win at this year's GolfBC Media Cup Invitational, hosted by Furry Creek, the Crystal Lodge & Suites and Nicklaus North!
Article by Guest Contributor Brad Ziemer, as featured in the August 2017 edition of the GolfBC eNews.

Brad Ziemer covered the B.C. golf scene for the Vancouver Sun for nearly 25 years. He received Golf Canada's Distinguished Service Award in 2013 and was also named the PGA of British Columbia's Patron of the Year in 2013.