Posted on
1st September, 2017
Source: Brad Ziemer, Guest Contributor
Most of us cherish our weekends off, but not professional golfers.
Thankfully, Jared du Toit has been quite busy on Saturdays and Sundays in his rookie season on the Mackenzie Tour-PGA Tour Canada circuit.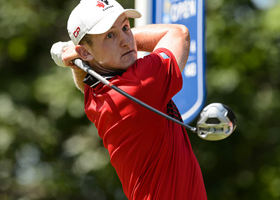 Heading into the Cape Breton Open, du Toit had not missed a cut in eight Mackenzie Tour events. The Kimberley native has made the transition from amateur golf to that of a touring pro look seamless.
In almost every event he has played this summer, du Toit at some point has been on the first page of the leaderboard.
"Whether it's the first, second, third or final round, I have been up there quite a bit," du Toit told me in a telephone interview from Baddeck, N.S. "And every time I get up there I get a little more comfortable, so it is feeling good."
With just three events left in the Mackenzie Tour season, du Toit is the leading Canadian on the money list and among the tour leaders with a stroke average of 69.0. He has had three top 10s and half of the 32 rounds he has played this season on the Mackenzie Tour have been in the 60s. He's happy with the progress he has made early in his journey as a pro golfer.
"It has been pretty solid," he says. "My bad golf has been good and my good golf has been pretty good as well. I say it a lot, but every week I am learning a little bit and just trying to get better. I am definitely feeling more and more comfortable as a pro."
Du Toit carried some lofty expectations with him when he turned pro this past spring after graduating from Arizona State University. His solid play this summer has shown that his tie for ninth place at the 2016 RBC Canadian Open was no fluke.
Du Toit has demonstrated the ability to go low. He shot a career-best 10-under 61 in his second event as a pro, the GolfBC Championship at Gallagher's Canyon in Kelowna. While that round sticks out as a highlight, there have been others.
"A couple of weeks ago in Edmonton I shot 63 with a double and two bogeys," he says. "And that round started with a double. That one was pretty cool for me and is one I will remember. And in Montreal I had it going really well. Through 13 holes I was like eight-under but then we got pulled off the golf course because it was getting dark. I have had three rounds that have been really good."
What du Toit hopes to do in these final three stops is string together four really good rounds. In many tournaments this summer one mediocre round is all that has kept him from contending for a title.
"I was just talking to a friend back home and I said it seems like every event I have one really good round, a couple pretty good rounds and then one kind of vanilla round. Once I figure out how to kind of get that vanilla round a little lower I think I am going to like my chances a lot at contending for a win."
The golf has been the easy part for du Toit in his transition from collegiate golf to the pro life. It has been the stuff away from the course that has been more challenging.
"In college you never think about booking travel, you never think about where you are going stay, where you are going to eat. You are kind of like a puppy following your owner or whatever. It has been different in that sense. All the logistics of getting to tournaments and where you are going to stay, that is a whole other element for me."
That's been made easier by the fact du Toit has often stayed with family or friends as he has criss-crossed the country.
"Kimberley is not a big place but it seems almost everywhere I have gone there is some connection to home that has kept me out of hotel rooms and into places pretty close to the golf courses," he says. "Even this week in Nova Scotia, a lot of guys are paying for hotels and I am staying with my uncle's golf buddy, so it is very cool. I feel very fortunate about that."
Du Toit, currently 21st on the money list, wants to finish the season strong. Ideally he'd like to move into the top five and claim one of those
Web.com
Tour exemptions. Anything inside the top 10 would allow him to go straight to the final stage of this fall's
Web.com
Tour qualifying school.
He feels like he is close to a big finish that would vault him up the money list.
"I have been in good position a few times and have had some pretty solid results," he says. "I haven't had that unreal weekend, but I keep knocking on the door. I am sure sooner or later it will open for me."
I am betting on sooner.
Article by Guest Contributor Brad Ziemer, as featured in the September 2017 edition of the GolfBC eNews.

Brad Ziemer covered the B.C. golf scene for the Vancouver Sun for nearly 25 years. He received Golf Canada's Distinguished Service Award in 2013 and was also named the PGA of British Columbia's Patron of the Year in 2013.