Posted on
12th June, 2018
Source: Brad Ziemer, GolfBC Championship Correspondent
The GolfBC Championship is preceded by an event that could also be called the GolfBC Championship.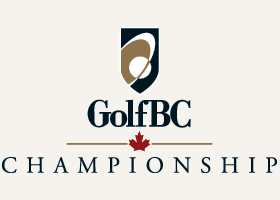 In early June, GolfBC invites its professional staff from its facilities across the province to play in a one-day event at Gallagher's Canyon Golf & Country Club, with the winner receiving a sponsor's exemption into the $200,000 Mackenzie Tour-PGA Tour Canada tournament the company has sponsored for the last three years.
It's a big deal for the GolfBC pros, all of whom would love the opportunity to test their games against some of the best young players in the world.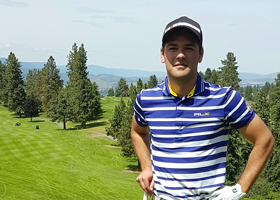 This year's winner was Conner Kozak, an assistant pro at Okanagan Golf Club who fired a tidy, three-under 69 to beat his peers and earn a spot in this week's tournament.
Kozak knows he will likely need a couple more rounds in the 60s to survive the cut and play the weekend in what is stop No. 3 of the new Mackenzie Tour season.
"That's the goal this year, I want to play all four rounds and see where it takes me, just see where that lands me at the end of the week," Kozak says. "That is the ultimate thing, if you make it through the weekend, you know you are good enough to play with these guys."
Don't be surprised if Kozak does just that. The 25-year-old is an accomplished player. The Vernon native had a solid collegiate career at the University of B.C., where he majored in kinesiology. And he has been playing well this year, with a number of high finishes on the Interior PGA Tour. Just last week, Kozak tied for third at the PGA of B.C.'s Assistants Championship at Bear Mountain in Victoria.
Kozak played in the inaugural GolfBC Championship in 2016 and missed the cut. He feels much better about his chances this year.
"Well, the first year I went there it was a little intimidating, for sure, but this year just because of how I am playing, the confidence level is a lot higher," he says.
"I think my game is in better shape, having played several tournaments going into it. I just feel a lot sharper mentally and with the swing as well. There will definitely be a little bit of nerves on the first tee, but once you are out there you are just like anyone else."
Kozak won't exactly have home-course advantage this week, but it's close. He knows Gallagher's Canyon inside-out and figures to get lots of support from family and friends.
"It is going to be a really fun week and it's nice to have sort of a home game," he says. "I'll have some friends and family out to watch and it is going to be fun to play a local tournament. I am really looking forward to it."
Kozak has snuck in a couple of recent practice rounds at Gallagher's and knows what he has to do to score well on the 6,802-yard layout, which will play as a par 71 for the pros.
"If you hit it straight enough there you can take advantage of the course being a little bit shorter," Kozak says. "All the par 5s are reachable. For some reason I always seem to putt well at Gallagher's which is a good thing for me. So if I can keep it in the fairway, take advantage of some of the shorter holes and roll the ball like I have up there, I think I will be good."
Kozak is now in his third year at Okanagan Golf Club, where he does a lot of teaching.
"I love the job," he says. "They have been really good to me."
Kozak adds he will be proud to represent GolfBC this week at Gallagher's.
"Any time you get that invitation or exemption or whatever you want to to call it, it's special," he says. "If I didn't work at one of these facilities I never would have got this opportunity. That part of it is really cool."
There will also be other Okanagan content in this week's field. Kelowna's Garrett Kucher, who recently joined Predator Ridge as the resort's golf ambassador, has received a sponsor's exemption. Harvest Golf Club teaching pro Finlay Young earned an exemption via his play on the Interior PGA Tour. And Kelowna's Matt Hopley earned an exemption through the Zone 2 Junior Order of Merit. Hopley, 16, will be playing in the event for the second straight year.