Posted on
29th April, 2019
Source: Website
If you visited the Olympic View Clubhouse in the last 4 months, you would have stepped into a full-on construction site! While golf course conditions during the driest March on record couldn't have been better, we were faced with a closed restaurant, a temporary golf shop upstairs, and even our department managers traded in their quiet office space for a communal round table in a half-finished dining room! The end result? A beautiful state-of-the-art kitchen, a new and improved ballroom complete with sound proofing and your event's very own private bar l patio, plus a more functional office space for our administrative team!
We are thrilled to announce all upgrades and renovations have now been complete and Forester's Restaurant is back OPEN.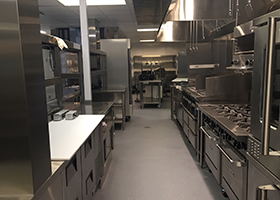 Our kitchen renovations included an extensive upgrade to both its size and equipment. A 30-foot extension brought a more functional layout for our Back of House kitchen team, allowing them to better accommodate simultaneous restaurant a la carte service and banquet buffets. Chef Mel is excited to have you visit, be sure to try some new, delicious (and soon to be favourite) menu items: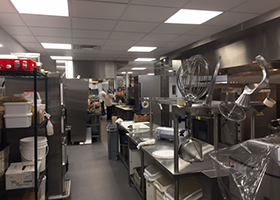 Chick Pea Cauliflower Bites
10 oz Peppercorn Striploin with Parmesan Fries
Chicken Chorizo Linguine
Slow Cooked Baby Back Ribs
Pulled Pork Sandwich
A fan of the classics? Don't worry!
Our menu
is still full of your favourite staples, plus we even brought back an old favourite - the traditional Lamb Curry.
Forester's Restaurant is now open 7 days a week for breakfast, lunch, and dinner.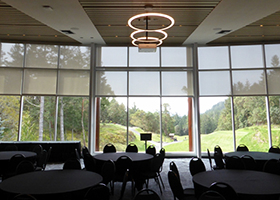 Along with the new kitchen, the refurbished Olympic Ballroom is now finished to match its spectacular view! New floor-to-ceiling windows bring the Olympic Mountains to the forefront and new carpet, a paint job, improved acoustic ceiling with additional sound proofing, new lighting, upgraded audio visual, and the addition of a banquet bar and patio give you a room special enough to make any event an everlasting memory.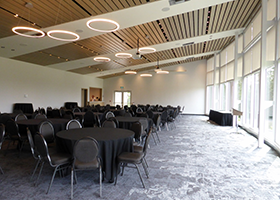 This multi-functional space is the perfect venue for weddings, corporate functions and banquets, parties, graduations, golf events, and more! To arrange a viewing and discuss event details, please contact our Events team of
Chantel Diminie
(Golf) and
Katrina Milne
(Weddings and Banquets).
We would like to thank all our guests for your patience during construction, we hope you can come by and enjoy the finished product! Whether it's a cold drink on the patio after a day on the course, a celebratory meal with friends and family, or a business meeting over a delicious lunch - we look forward to seeing you on your next visit. To make a restaurant reservation, please call
(250) 474-3673
ext 3.