Posted on
31st May, 2019
Source: Brad Ziemer, Guest Contributor
You hardly get to know them and then they're gone.
That's the story of the best players on the PGA Tour Canada-Mackenzie Tour circuit. Like that old Trooper song, it seems like they're here for a good time, not a long time.
So, golf fans, catch them while you can. You may not get a second chance.
The Mackenzie Tour, now in the midst of its three-event British Columbia Swing, is certainly living up to its reputation as a pathway to the PGA Tour.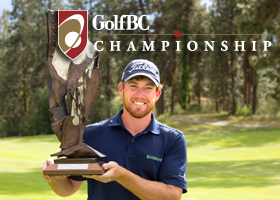 Take the upcoming GolfBC Championship at Gallagher's Canyon Golf & Country Club in Kelowna, for example. Just this spring, two of its three former champions have won tournaments on the Web.com Tour. One of them, 2017 champ Robby Shelton (pictured), won twice in a matter of three weeks.
Shelton is off to next season's PGA Tour, which tees off in October. He'll be there sooner than that if he happens to win a third tournament and earns an immediate promotion to the PGA Tour.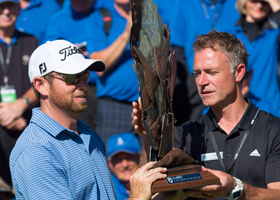 Dan McCarthy (pictured), who won both the 2016 GolfBC Championship and Freedom 55 Financial Open in Vancouver, also won on the Web.com Tour earlier this spring and has locked up a PGA Tour card for next year.
Shelton, a former University of Alabama standout, was quick to credit his year spent on the Mackenzie Tour with helping him get to golf's promised land.
"I think now it's more. . .I am here to win," Shelton said after one of his recent victories on the Web.com Tour. "It's the same thing as up in Canada. I've finally got that confidence, and I knew could win up there. It just got the ball rolling and if I have confidence in my game I'm looking to win, looking to finish well. In the past, I wanted to win but mentally I wasn't there yet. I wasn't ready. Now I am. Now my game is there and it's exciting to be in the hunt this often."
The Mackenzie Tour took over the former Canadian Tour in 2013 and since then a large number of its alumni have made it to the PGA Tour. Seven of them -- Mackenzie Hughes, Nick Taylor, Tony Finau, Aaron Wise, Adam Long, Corey Conners and C.T. Pan -- have already won.
That trend -- the Mackenzie Tour calls it Tourjectory -- figures to continue as young players are forced to climb the ladder if they hope to make it to the PGA Tour. Gone are the days when players could advance directly from qualifying school to the PGA Tour.
To get to the big leagues, players must first play well on the Web.com Tour, where the top 25 players graduate to the PGA Tour each year. There are really only two ways to get to the Web.com Tour -- play well at the annual fall Q school or earn status via the Mackenzie Tour or the PGA Tour LatinoAmerica and PGA Tour China circuits.
This explains why the Mackenzie Tour Q schools fill up in mere minutes each year. There are now six of them every spring and many of the spots are filled with top collegiate players looking for a place to start their professional careers.
Just one example this year would be Doc Redman, the 2017 NCAA champion who played his collegiate golf at Clemson. Redman made his Mackenzie Tour debut at the Canada Life Open at Point Grey Golf & Country Club in Vancouver, where he tied for 19th. Earlier in May, he tied for 18th at the PGA Tour's Wells Fargo Championship, where he was playing on a sponsor's exemption.
At last week's Bayview Place DCBank Open in Victoria, Redman was joined by former Clemson teammate Bryson Nimmer, who made his professional debut at Uplands Golf Club.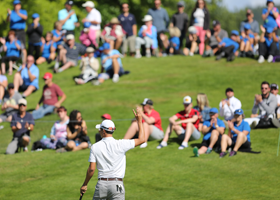 After a break during Canadian Open week, the Mackenzie Tour resumes June 13-16 for the GolfBC Championship at Gallagher's Canyon. It's another opportunity to watch some of the world's best young pros and it won't cost you a dime. GolfBC has dropped admission charges for this year's event (although you can make a donation at the gate to benefit the tournament's official charity, the B.C. Cancer Foundation).
If you go, I can pretty much guarantee that in a couple years' time you will be sitting at home watching a PGA Tour event saying, 'hey, I watched that guy play in Kelowna.'
Brad Ziemer covered the B.C. golf scene for the Vancouver Sun for nearly 25 years. He is a past recipient of Golf Canada's Distinguished Service Award and the PGA of British Columbia's Patron of the Year award.