Posted on
6th June, 2019
Source: Brad Ziemer, Guest Contributor
But first, he'll play in this week's RBC Canadian Open on the PGA TOUR!
The GolfBC Championship has awarded their sponsor exemptions for this year's tournament scheduled for Gallagher's Canyon June 13th – 16th, and once again a group of B.C. players will experience the thrill of playing in a professional golf tournament in their own back yard. Local golf fans will want to come and cheer on the B.C. players as they take on some of the best players in world trying to move up to the Web.com and the PGA TOUR.
James Allenby hails from Langley B.C. where he works part time in the pro shop at the Langley Golf Course. James' grandfather built a par-3 course in Langley, his mom manages the Langley Golf & Banquet Centre, and his uncles manages the Royalwood Golf Club. Allenby will be playing in this week's RBC Canadian Open in Hamilton, ON after successfully Monday qualifying. He is coming off a T2 finish at the Mackenzie Tour's Canada Life Open in Vancouver, B.C. just two weeks ago, his best career finish in 71 starts on that circuit.
Member of 3 Willingdon Cup Teams for BC
Member of the Canadian National Amateur Team in 2005 with Graham DeLaet
All American at Oregon State University
Member of PGA Tour Canada for 7 years
Finished T2 at the 2019 Canada Life Open in Vancouver, BC
James has put together an impressive string of rounds in 2019 on the Vancouver Golf Tour and the Mackenzie Tour. His stroke average was 64.78 over nine rounds.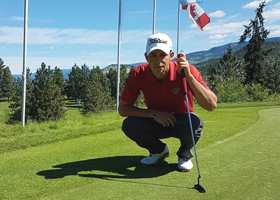 John Mlikotic calls Kelowna B.C. home, where he works part time at the Gallagher's Canyon golf shop. John worked hard at school as well as on the golf course, receiving a Bachelor of Arts degree at Simon Fraser University in Vancouver in 2016. John worked on his game last winter in Phoenix Arizona and earned conditional status on the Mackenzie Tour. Some of John's notable achievements on the golf course include:
2019 Vancouver Golf Tour Major #2 T3
2019 Vancouver Golf Tour Sandpiper Classic T41
2018 Farmers Insurance Open Pre -Q T7
2017 VGT Major #3 T1 (Lost in playoff)
John says he looks forward to representing the Mackenzie Tour Host Club and wants to make the Kelowna golf community proud.
B.C. Golf Zone 2 Junior Program Champion – As in the past, one sponsor exemption is awarded to the champion of the Zone 2 Junior Program which covers an area from Osoyoos to the south, Revelstoke in the east, Merritt in the west, and Sicamous in the north. It comprises over 50 golf courses. Many Zone 2 juniors have received scholarships to US and Canadian Universities. Currently at least two juniors are being recruited by US schools. Matt Hopley from Gallagher's Canyon Golf & Country Club represented Zone 2 in 2018 The 2019 champion will be determined this weekend.
Mike Nedoszytko is originally from Toronto and was a member of Golf Ontario`s U-19 Provincial Team. He played golf at University of Detroit Mercy for one year, then returned back to Ontario and played two years of Junior A Hockey in the Ontario Junior Hockey League. Mike is currently an associate golf professional at Nicklaus North Golf Course in Whistler, B.C.
Ethan Danish grew up a junior member in Lethbridge, Alberta at Paradise Canyon Golf Resort. After moving to West Kelowna, Ethan accumulated 21 Professional wins, and won Interior PGA Tour's order of merit in 2018. Ethan spends the winters in Australia studying under his coach Gary Edwin, as well as playing mini tours in Europe. He is in his 8th season at Two Eagles Golf Course as assistant professional, in Kelowna, BC.
Brad Ziemer covered the B.C. golf scene for the Vancouver Sun for nearly 25 years. He is a past recipient of Golf Canada's Distinguished Service Award and the PGA of British Columbia's Patron of the Year award.