Posted on
12th June, 2019
Source: Brad Ziemer, Guest Contributor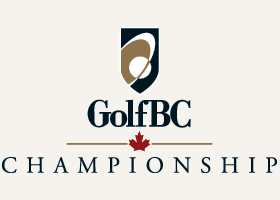 Lionel Taylor should be easy to spot this week at the GolfBC Championship.
He'll be the guy pinching himself on the first tee.
The 23-year-old Kelowna native still can't quite believe he has a spot in the field of the $200,000 PGA Tour Canada-Mackenzie Tour event being played at Gallagher's Canyon Golf & Country Club. Taylor fully expected to be at Gallagher's this week, working in the golf shop. But his plans changed in a big way when he was told Tuesday morning that he was being granted a sponsor's exemption into the event.
"Yeah, I am pretty excited," Taylor said, sporting a huge grin. "It's a little bit of a change. I went from working in the shop to playing in the tournament. I can't complain."
No, he certainly won't be complaining. But Taylor may feel a few butterflies when the time comes to tee it up.
"You are always nervous, so you just have to handle it," he said. "It's going to be fun. There is no pressure on me. I am not out here for a living, I am out here to have fun and see what we can do and go from there."
Taylor graduated from Rutland Senior Secondary and had a solid junior and amateur golf career before turning pro earlier this year. He works as an assistant pro at Gallagher's Canyon. He loves his job, the people he works for and figures to get lots of support from Gallagher's members, who love Taylor's friendly demeanor.
"It is awesome up here," Taylor said. "We have really good members, a great staff, (general manager) Peter Hopley and (head professional) Lee Alarie are great to work for. It makes it easy to come to work every day."
Taylor knows his work the next four days — hopefully — won't be easy. He will try to draw on his intimate knowledge of Gallagher's that he likes to think gives him something of an edge. He plans to play aggressively and take some chances off the tee. An example of that came in Wednesday's practice round. While many of the pros tee off with 2- and 3-irons on Gallagher's tough par 4 opening hole, Taylor pulled out his driver and ripped one down the middle of a rather narrow fairway.
"Usually, I am a little driver-happy, but it might be a little different this week," he said. "I will probably have to dial it down a little bit.
"You can't force anything here, you just have to get it in the fairway and hit your approach shots and hopefully get a few birdie opportunities."
Mainly, Taylor just wants to soak up the experience of his first big pro event.
"It is something you can't really put into words," he said. "You get a chance like this and you just want to cherish it and make the most of it. That is what I plan on doing this week. And have some fun with it."
Taylor is not the only player with a Gallagher's connection in this week's field. Kelowna's John Mlikotic has spent considerable time working in the Gallagher's golf shop the last few years. He still pulls the occasional shift when he is in town, but his main job these days is chasing his pro golf dream.
The 26-year-old Simon Fraser University graduate is also playing on a sponsor's exemption this week. This will be his second appearance at the GolfBC Championship.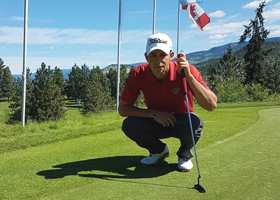 Mlikotic played in the inaugural GolfBC Championship in 2016 and missed the cut by a single shot.
"I just remember I had a lot of fun," Mlikotic recalled before his practice round Wednesday. "I just went out there and played like I had nothing to lose type of thing and used the home course advantage to my favour.
"I have hit every shot on the golf course, so it kind of just made it feel like I was playing with the boys. I was just trying to have fun and ended up playing pretty decently. I had a couple of bad swings on the second day, but I remember I grinded hard and made a couple of birdies coming in. But it just wasn't enough."
There are other local connections teeing it up this week, including Ethan Danish of Two Eagles Golf Course in Westbank. Danish earned the exemption given to the points leader on the Interior PGA Tour.
The youngest player in the field is 14-year-old Cooper Humphreys of Kelowna. The Grade 8 student, who just led Aberdeen Hall Preparatory School to the B.C. High School Single A championship, earned his exemption by winning the Zone 2 Junior Program.
Brad Ziemer covered the B.C. golf scene for the Vancouver Sun for nearly 25 years. He is a past recipient of Golf Canada's Distinguished Service Award and the PGA of British Columbia's Patron of the Year award.