Posted on
15th June, 2019
Source: Brad Ziemer, Guest Contributor
On the first anniversary of his Mom's death, John Mlikotic made his first cut on the Mackenzie Tour.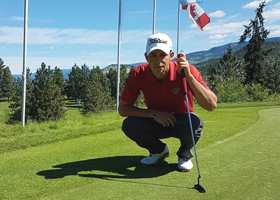 Mlikotic does not think it was a coincidence. His Mom, Natalia, who passed away after a short battle with cancer on June 14th of last year, was with him every step of the way in Friday's second round of the GolfBC Championship at Gallagher's Canyon Golf & Country Club. Mlikotic said his Mom's sudden passing has put things in perspective for him. He loves golf, but knows there are other things much more important.
Those thoughts, he said, helped him make the biggest birdie of his young professional golf life on his 18th hole Friday to make the cut on the number.
"That kind of put things in perspective for me," he said of his Mom's passing. "I just kept telling myself, there is more to life than golf and not to worry about it, and I think that kind of helped me get through the day and not stress too much. "At the end of the day golf is not the end-all or mean-all for me. I am glad that kept me calm and that I am on the right side of the cut this time."
This is Mlikotic's third Mackenzie Tour event. He missed the cut in his previous two starts, including a heart-breaker three years ago at the GolfBC Championship when he missed by just one shot.
For most of Friday, it looked like he would finish comfortably inside the cutline. But two late bogeys on his 16th and 17th holes of the day dropped him to even-par for the tournament. He needed to birdie the par 5 ninth hole — his 18th of the day — to make the weekend.
"I birdied six and then I felt fine, but I just made a couple of loose swings coming in on seven and eight and wasn't able to make any par saves there," he said. "I told my caddie I didn't want to know what the cut was. I forced myself not to look at the leaderboard all day. But I thought maybe I was close. I felt like I had to make birdie on the last hole. I had about a 12-footer and just kept my head down and rolled it in the heart."
The 26-year-old Mlikotic is playing on a sponsor's exemption. He has worked in the Gallagher's Canyon golf shop for many years and has conditional status on the Mackenzie Tour this year.
The Simon Fraser University graduate knows a good weekend would help when the tour does its reshuffle after the sixth event of the season. A top-20 finish this week would also get him into next week's event in Lethbridge, Alta.
"I hope to get hot here the next two days and move up the leaderboard and go from there," he said.
John Mlikotic has no time to savour amazing GolfBC Championship experience…
Posted on 16th June, 2019 ​
John Mlikotic got a taste of his first full PGA Tour Canada-Mackenzie Tour event and wants more.
So just a couple hours after finishing his fourth and final round of the GolfBC Championship at Gallagher's Canyon Golf & Country Club, Mlikotic was on his way to the airport for a flight to Calgary and a drive south to Lethbridge.
The Lethbridge Paradise Canyon Open tees off on Thursday and Mlikotic hopes to play his way into the event via the Monday qualifier.
"I tee off at 9:20 Monday morning in the qualifier," Mlikotic said. "It's a very quick turnaround. Hopefully, I can get a little sleep tonight and continue this decent play and make some more cuts."
Mlikotic closed with a one-under 70 Sunday to finish the GolfBC Championship at two-under par and tied for 55th place. He had missed the cut in two previous Mackenzie Tour starts, so this one had some special meaning to the 26-year-old Kelowna native and Simon Fraser University graduate.
"It was amazing," Mlikotic said. I had a ton of fun this week, I am excited to have made the cut and put up some decent scores. I still feel like I can play better, but all in all just an amazing week. Without GolfBC and without Gallagher's Canyon putting on this great event, it doesn't happen. So thank you to both of them and I also want to thank tournament chairman Hugh Vassos and his team for giving me the exemption this week."
Mlikotic has conditional status on the Mackenzie Tour but his number is not a good one, so he hasn't been able to draw into any events. He plans to try and Monday qualify his way into the next three events. Any money he makes will help him when the tour does its reshuffle after the sixth event of the year in Toronto.
"I don't know the exact amount I am going to have to make to shuffle into the last six events, but hopefully this is enough," Mlikotic said. "If not, I hope I can make a couple more cuts in the next three events and get in there for the rest of the season."
Mlikotic, who spent several years working in the Gallagher's Canyon golf shop, played what he called steady golf this week.
"I think I was steady again today," he said. "Very similar to yesterday, I just couldn't seem to get anything going. I played very solid on the front. I had two birdies and no bogeys and it all kind of got halted with a freak three-putt on No. 11 from maybe 20 feet. That slowed down the round a bit, but I think I hit it nicely and actually putted a little better today. I didn't get a whole lot out of the round. But all in all it was a lot of fun."
Mlikotic will be playing blind at Monday's qualifier at Picture Butte Golf Club.
"I haven't seen it. I have just looked it up online and have planned it out. I have a family friend who lives out there I am staying with and he has played it a bunch of times, so he is going to be on the bag. So hopefully, I get some local knowledge from him."
Mlikotic was one of four Canadians — all British Columbians — to make the cut at Gallagher's Canyon.
Brad Ziemer covered the B.C. golf scene for the Vancouver Sun for nearly 25 years. He is a past recipient of Golf Canada's Distinguished Service Award and the PGA of British Columbia's Patron of the Year award.