Posted on
13th January, 2020
Source: Website
If you've dined at Olympic View lately, you would have enjoyed your meal from the comfort of our recently renovated (and temporarily transformed) ballroom. Why? Because your normal dining space is currently a construction site while we work to bring you a new Lounge, Bar, and Dining Room area. Similarly in Whistler, Nicklaus North renovations are underway for a new and improved Table Nineteen restaurant.
Olympic View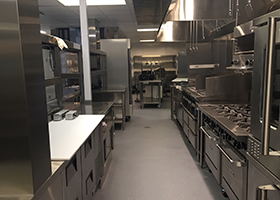 PHASE ONE
of Olympic View's Clubhouse and restaurant renovations was completed in April 2019. This included a full kitchen, administration offices, and ballroom renovation. In the kitchen, extensive upgrades to both its size and equipment took place; a 30-foot extension brought a more functional layout for our Back of House kitchen team, allowing them to better accommodate simultaneous restaurant a la carte service and banquet buffets.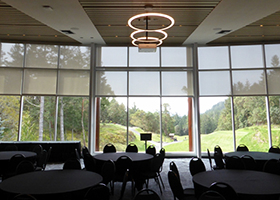 In addition, the refurbished Olympic Ballroom is now finished to match its spectacular view! New floor-to-ceiling windows bring the Olympic Mountains to the forefront and new carpet, a paint job, improved acoustic ceiling with additional sound proofing, new lighting, upgraded audio visual, and the addition of a banquet bar and patio give you a room special enough to make any event an everlasting memory. This multi-functional space is the perfect venue for weddings, corporate functions and banquets, parties, graduations, golf events, and more!
Currently underway is PHASE TWO of Clubhouse renovations where the main entrance, upstairs washrooms, restaurant and lounge, and downstairs locker rooms will all see major upgrades and improvements. Check back for exciting completion dates and announcements (including some delicious new menu items!).
Nicklaus North and Table Nineteen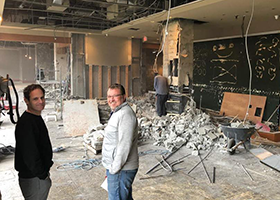 Restaurant renovations broke ground November 2020 to bring you a NEW and improved Table Nineteen, complete with updated branding and menu. These renovations will add fourteen more seats at a newly constructed lounge bar, a large fireplace, and a transformed dining room. The new dining room will be multi-functional with an intimate private dining area and retractable privacy walls to transform the space into the perfect event venue! Another new addition will be the express cafe window facing the golf shop and Valley Trail.
New and noteworthy features include new flooring and ceiling, tables and chairs, audio, feature comfort (fire side) furniture, lighting, counter tops, viewing screens, and decor; plus, improved functionally for efficient service delivery.
Along with the new restaurant comes a new Table Nineteen brand. While the name stays the same, the logo, look, and feel has all be updated to match the fresh new space.
We would like to thank you for your paitence during these renovations, and are excited to host you in Spring 2020. Follow along on social media for updates and announcements!