Posted on
1st April, 2021
Source: Website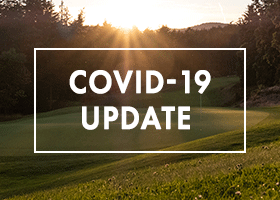 As a business operator our priority is the well being and safety of our Members, Guests and Employees during this viral outbreak. Until this is behind us, we can expect many conversations and changing procedures. We continue to monitor the evolving global, federal and provincial public health situation around COVID-19 (Coronavirus) and commit to follow the latest directions provided to us by the relevant authorities. There are no limits as to the precautions that can be taken, however, with the information available we will endeavor to provide the safest environment possible for us to deliver a golf experience that adheres to our government and health regulators.
GolfBC courses are taking certain measures to help prevent the possible spread of the virus. To support the efforts of the individual, we have implemented certain strategies that include:
Increasing the frequency of cleaning and disinfecting in all Club areas, especially in areas of high use, such as washrooms and door handles.
Placing additional hand sanitizer stations in high traffic, communal areas e.g. entrance to clubhouse, exit from washrooms.
Removing self-service food and beverage stations.
Training employees on safety and sanitary precautions and protocols.
Adding educational signage reminding all golfers and employees to take preventative measures to minimize risk.
Removing non-essential items around the Golf Course and Clubhouse that can be handled by multiple persons.
Limiting non-essential vendor and supplier visits.
Encouraging nods or waves instead of handshakes.
Enforcing Physical distancing. Stay a minimum of 2 meters/6ft apart at all times.
Guest Protocols
It is imperative that Members and Guests abide by the protocols below as failure to do so will result in the individual(s) being removed from the facility. We must all become socially responsible for our actions and behavior so golf can remain open for the enjoyment of all, through these challenging times.
Any players without symptoms of COVID-19 are currently permitted to play golf if they adhere to the following protocols:
PRIORITY 1 - Practice physical distancing. Always stay a minimum of 2 meters or 6 feet apart. Wash your hands often with soap and water for at least 20 seconds.
Follow all instructions at time of booking - verbally communicated, or via email confirmation. Our priority is to reduce contacts in and around the Clubhouse, and our staff will ensure every player receives the latest information regarding protocols while at the facility.
Change shoes in the parking lot and respect any closed areas of the Clubhouse.
All players will be required to handle their own clubs from arrival to departure.
Meet on the first tee observing distancing guidelines with modified greetings, nods and waves [No handshakes or high fives etc.]
Golfers should only pick their own ball up.
Consider carrying your own hand sanitizer and use frequently while at the facility
Public drinking fountains and ball cleaners have either been removed or closed for use, please bring your own towel.
Leave the flag in place while putting as holes have been modified for easy retrieval of balls. Encourage 2 foot gimmes.
Rakes have been removed. Smooth out the sand in the bunker with a club or your foot to the best of your ability.
No handshakes on 18th green and do not hand over money!
Insist on physical distancing using the minimum 2 meter/6ft rule on tees, greens and while walking down the fairways and throughout the round. Maintain physical distancing at ALL times while at our property.
Please always follow signage and protocols provided to you by any of our employees.
Any players with any symptoms of COVID-19, or at high risk: do not enter any part of the golf facility. If you are unsure please use the self assessment tool provided free online or through the BC Support App. Also do not enter any part of the facility if you are: from a household with someone with any symptoms of COVID-19; self-isolating as a result of contact with an infected person or in families who are self-isolating; or have traveled outside of Canada or the province within the last 14 days (or residing with someone who has). Please stay home for now, and we look forward to seeing you at a later date.
Booking Procedures & Services
Online Bookings are available. Visit the golf course website for specific booking policies.
No walk-ons are permitted. If you don't have a tee time, please do not come to the property.
Designated washrooms are available; follow signage posted.
Additional protocols may be in place at specific facilities; please visit the GolfBC golf course website ahead of your visit for any course-specific instructions, and follow all posted signage.
It is imperative that our Guests abide by the above protocols as failure to do so will result in the individual(s) being removed from the facility. We must all become socially responsible for our actions and behaviour so golf can remain open for the enjoyment of all, through these challenging times.
Online Resources:
For further detailed information including self-isolation CLICK HERE.
For self assessing your own health CLICK HERE.