Posted on
12th June, 2020
Source: Website
Update - June 30, 2020
All three of our GolfBC PGA of BC Golfathons for ALS are completed, and another successful year of fundraising is complete.
Lee Alarie, Jason Jurimae and Lionel Taylor at Gallagher's Canyon once again battled the elements, but a little rain wasn't going to hold them back completing a total of 101 holes each over a 17-hour span. The number of outfit changes nearly matched birdies made, "it was like watching a golf fashion show"!
Last Wednesday, June 24th, saw both Mayfair Lakes/GolfBC Corporate Office and The Okanagan Golf Club teed off at the crack of dawn. Brian Coe (Mayfair Lakes) and Nicole Jordan (GolfBC) raced daylight, completing their final and 180th hole of the day in near-darkness. Over at the Okanagan Golf Club, Lee Ranger and his team completed a total of 162 holes each raising over $3,000 to life saving research and aiding those living with ALS.
THANK YOU to our professionals for participating, and thank you to our members, colleagues, friends, and families for your ongoing support of such a worthy cause. If you missed the chance to donate and still wish to do so - it's not too late! Scroll down for donation links and more information.
Every year, PGA of BC golf professionals throughout the province tee it up in support of ALS research, awareness, and support. Professionals pledge to golf from sunrise to sunset lending their muscles to support those who have lost theirs to ALS. All donations raised during these Golfathons provide direct support to people living with ALS, their families, and caregivers, to ensure the best quality of life possible.
Our GolfBC professionals, throughout the past 15 years of the fundraiser's existence, have weathered storms, raced daylight, and exhausted their muscles in efforts to raise awareness and support for those suffering with this heartbreaking disease.
2020 is no exception! Gallagher's Canyon and The Okanagan Golf Club in Kelowna, and Mayfair Lakes and GolfBC Coporate Office in Richmond/Vancouver are gearing up for another successful year of Golfathons, starting this weekend (June 14) at Gallagher's Canyon.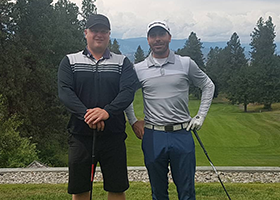 Leading the way is Gallagher's Canyon Head Professional,
Lee Alarie
with Assistants/Associates
Jason Jurimae
,
Jake Pilon
, and
Lionel Taylor
on Sunday, June 14. This will be Alarie's 6th year participating in the event at Gallagher's Canyon, and 9th year total; 3 years at a previous course (and hometown), Osoyoos Golf Club. Associate Professional, Jason Jurimae, will be participating for his 10th year, as a founding member of the Gallagher's Canyon event.
With their usual target of 100-110 holes each as the goal, the Gallagher's Canyon team are prepared for whatever Mother Nature decides to send their way.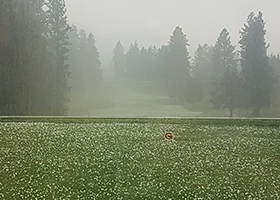 June in the Okanagan can be a bit of a gamble when it comes to weather, with everything from 30-degree heat to thunder and lightening all in the same 12 hours. Last year's Golfathon was a battle of the elements by every definition of the term. After 63 holes, the clouds rolled in and the Gallagher's team were finally forced to take a break thanks to one of the heaviest hail storms of the season
(pictured: is the first tee deck covered in golf-ball sized hail)
. Well played, Mother Nature, well played; let's hope she's kinder to the boys this year.
Wednesday, June 24 will be a big day as both Mayfair Lakes and The Okanagan Golf Club will be heading out for their marathon day on the course.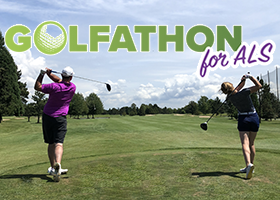 For the 9th consecutive year, Mayfair Lakes' Head Professional,
Brian Coe
along with
Nicole Jordan
(GolfBC Corporate Office) will hit their first shots with the 4:30am sunrise. The pair will be joined by various other Mayfair Lakes Professionals/Team Members throughout the day who will help motivate them to their 10-round goal. 2018 set the record, completing a total of 190 holes each (10.5 rounds) and a combined birdie-count of 30.
Alongside Mayfair Lakes will be the team of Head Professional Lee Ranger and Associate Professionals/Team Members Conner Kozak, Steven Coulthard, Josh Horsthuis, and James Grassie of the Okanagan Golf Club.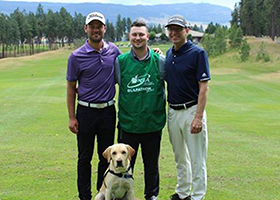 For Ranger, this event is a staple to his season and hits close to home. Ranger resurrected the event at the Okanagan Golf Club six years ago after his father, an avid golfer himself and long-time member of Uplands Golf Club in Victoria, received his ALS diagnosis. Seeing first-hand the devastating effects the disease has on those diagnosed and their families, Ranger knows all too well the need for aid and awareness. After losing his father this past January, this year's Golfathon holds even more meaning to Lee and his team, as it will be the inaugural event in his memory. Over the past four years, Lee and his team have raised an amazing $17,000 for the cause.
As of 2019 following the 14th year of the Golfathon for ALS, PGA of BC professionals throughout the province have completed 224,202 holes of golf raising $1,894,046 in support of people living with and affected by ALS. As a direct result, over 5,600 patients and their families have been helped.
Thank you to our professionals, members, and (most importantly) donors for your continued support during our course's fundraising efforts. For more information on the Golfathon to ALS, please
click here
.
To make a donation, please visit: