Posted on
21st October, 2020
Source: Aman Dosanj, Guest Contributor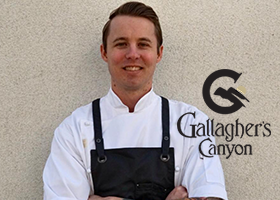 The Okanagan is truly a 4-season playground for chefs. When it comes to local goodness, we have it all - from organic farm-fresh ingredients, an exploding wine scene, ethically raised meats, sustainable ocean-friendly seafood, honey, wheat and grains, and a budding BC ale and cider trail, so it was no wonder that Chef Nelson Daniels came to Kelowna for a 3-month snowy vacation in 2012 and decided to make the temporary move from the southern hemisphere a permanent one.
Born and raised in Port Macquarie, Australia, Nelson is many things - a chef, golfer, forager, surfer, mountain biker, bread enthusiast, snowboarder, and lover of fermented and smoked things, to name a few. Leaving New South Wales as a trade-qualified chef, Nelson started from scratch in the Okanagan. Working his way up the ranks to Sous Chef at Kelowna's award-winning hot spot, Waterfront Wines, he received Jedi-like mentorship from Chef/Sommelier, Mark Filatow and a tight-knit team of talented chefs.
From there, Nelson became the chef/partner at Vice & Virtue Brewing in Kelowna's North End, where the words smoke meat every day, are stencilled on the wall (despite his vegetarian upbringing). Nelson's time at Vice was our first glimpse into his style of cooking. Humbly branding his food as 'uncomplicated' and 'simple', it is anything but that. Whether watching tutorials from Pips Bread, reading up and learning all he can from mega chefs like Magnus Nilsson and Rene Redzepi, touring local farms and exercising his curiosity by doing, he is pretty much a wizard when it comes to crafting house-made charcuterie, smoking meats, and preserving the seasons, whilst supporting as much local as possible.
"My goal is to elevate the casual food scene in Kelowna. We cook clean, simple plates that are approachable and affordable."
Being true to his farm-to-table philosophies and building on long-term farmer relationships, it's all about telling the story about where we live and the people behind the produce and place with seasonally-inspired menus rotating every 5-6 weeks or so.
"Dining at a local independent restaurant, means you are investing into the well-being of the Kelowna community, it allows us to do the same, we return more than three times as much money per dollar of sales to the community than chain competitors. You see it all goes full circle."
That community connection has always been important to Nelson. Paying tribute to the abundance in the neighbourhood, he is reimagining farm-to-table cuisine at Gallagher's with a hyper-local focus. To put things into context, I calculated the distance from Nelson's go-to suppliers to the restaurant's door (and then onto your plate):
Despite sharing similar small-scale suppliers as other seasonal and local restaurants across the Valley, the idea is to welcome everyone, and be a destination for delicious eats without the $30+ per plate price tag that is common at every winery.
The best thing is that Nelson is just getting started. I am excited for what is next. But, before we end things there, here are a few ways Chef Nelson likes to explore Kelowna:
"We are so lucky in Kelowna with its true four seasons. Winter, I spend all my free time with my girlfriend, Alex, at
Big White
snowboarding; spring, I'm out following last years bush fires looking for Morel mushrooms; summer,
Gallagher's Canyon Golf Club
is a beautiful course for a round of golf; fall, I'm out on the bike riding Angle Springs - keep an eye out for wild raspberries and salmonberries, it's a great little sugar treat halfway up."
Oh, and did I mention he's just a top-notch human, too?
About Aman Dosanj & The Paisley Notebook: Food geek, marketing geek, former England and Arsenal footballer (soccer), people watcher, feminist, BSc Business Graduate, middle child, Virgo, planner, Slow Food Member, adventurer, From The Wild alumni, imperfect environmentalist, storyteller, and just weird enough to be interesting. The former Poppadoms owner and Western Living Magazine 'Foodie of the Year', organizes pop up dinners and collaborative events across the Okanagan aimed at bringing the community together. Winner of the 'Culinary Tourism Experience' category at the 2018 Canadian Tourism Awards, and a two-time gold winner for the Food Day Canada 'Good Food Innovation' Award in 2018 and 2019, Aman and The Paisley Notebook has raised over $60k for local charities since 2017. Check out PasleyNotebook.com.